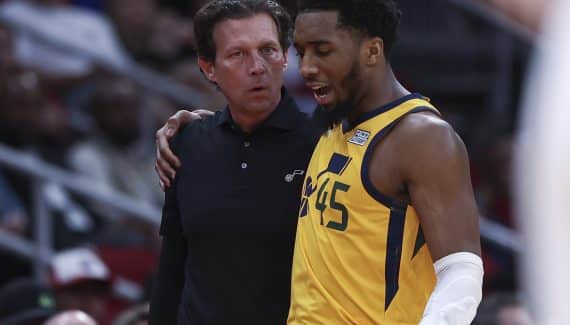 Quin Snyder had just waved his hand in the direction of Dejounte Murray, probably asking him not to "switch" to the "pick-and-roll". The former Spurs player was however caught in the screen at the head of Ricky Rubio's racket and Donovan Mitchell found himself alone against Trae Young.
The punishment was instantaneous. The rear of the Cavs did not hesitate to send a new missile behind the arc to allow his team to return to the score, five minutes from the end on the floor of the Hawks.
Author of 44 points (15/33 on shots), the quadruple All-Star signed a great soloist number but his team lost this match which served as a reunion between his former coach and him. The two men had the opportunity to meet after the meeting.
For the Hawks technicianDonovan Mitchell remains " a unique player and a unique young man, he is still a young man. It is to his credit to have been able to evolve as a player. He works on his game and progresses constantly. "An indirect allusion to his season in Cleveland at over 27 points per game, his best career average, accompanied by his best success percentages (48% on shots including 38% from afar).
Not surprised by the way he plays
" It was rather strange to see him with the opposing team ", Continues the technician who had never had the opportunity to face the back. Drafted in 2017, he had only known one coach during his first five years in Utah.
Their joint mandate with the Jazz ended abruptly during the last offseason. After the elimination of his team in the first round of the playoffs, Quin Snyder took the lead by resigning in early June. This decision was to be the starting point for a series of internal moves, marked by the successive transfers of Rudy Gobert to the Wolves, then of Donovan Mitchell to the Cavs.
Since then, the latter has had a blast in Ohio while Quin Snyder, after several months away from the NBA benches, was convinced by the Hawks project. Tonight, his players, who have been generating see-saw results for weeks, were able to withstand the eruption of his former star.
" I wasn't very happy to see him do things against us that I used to enjoy. He had a fantastic match, it's hard to contain him. We tried to change in defense, to take it to two … He is aware of the way he is defended and he anticipates it much better than he did a few years ago. His way of playing at the moment does not surprise me at all. I obviously think the best of him ", he concludes.
Donovan Mitchell
Percentage
Bounces
Season
Crew
GM
Minimum
Shots
3 points
LF
Off
Def
Early
pd
party
Int
bp
CT
Points
2017-18
UTH
79
33
43.7
34.0
80.5
0.7
3.1
3.8
3.7
2.7
1.5
2.7
0.3
20.5
2018-19
UTH
77
34
43.2
36.2
80.6
0.8
3.3
4.1
4.2
2.7
1.4
2.8
0.4
23.8
2019-20
UTH
69
34
44.9
36.6
86.3
0.8
3.6
4.4
4.3
2.5
1.0
2.7
0.2
24.0
2020-21
UTH
53
33
43.8
38.6
84.5
0.9
3.5
4.4
5.2
2.2
1.0
2.8
0.3
26.4
2021-22
UTH
67
34
44.8
35.5
85.3
0.8
3.4
4.2
5.3
2.5
1.5
3.0
0.2
25.9
2022-23
KEY
64
36
47.7
37.9
86.8
1.0
3.2
4.2
4.5
2.4
1.5
2.6
0.4
27.4
Total
409
34
44.7
36.4
83.9
0.8
3.4
4.2
4.5
2.5
1.3
2.8
0.3
24.4