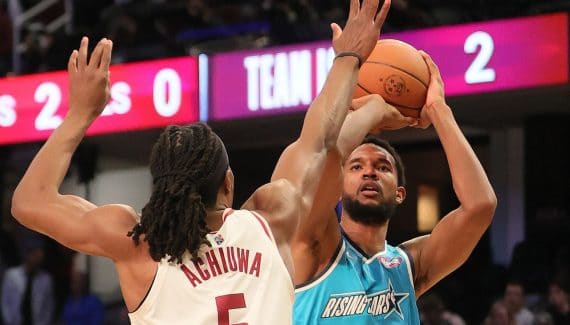 Winner of the Skills Challenge with his comrades from the Cavs, Jarrett Allen and Darius Garland on Saturday evening, but also victorious the day before in the new formula of the Rookie Challenge, Evan Mobley was finally able to breathe a little on Sunday.
Not far from the floor, accompanied by Lamar Stevens and Isaac Okoro, the star rookie from Cleveland was able to fulfill his dream of attending an All-Star Game in the flesh. Before participating next year?
A unicorn launched at a triple gallop
In any case, with his 15 points and 8 rebounds on average in his first fifty NBA games, the former USC impresses everyone and represents a unique profile for Cleveland.
"It really is a unicorn. A guy of 2m13 and 20 years old who can do everything! ", enthuses Darius Garland in The Athletic. "I'm really happy to play with him. "
Author of 18 points, 11 rebounds, 2 assists and 1 against in the two small games on Friday evening, between rookies and sophomores, Evan Mobley largely participated in the success of his team led by Cade Cunningham, elected MVP.
" It was a good experience. I just came to try to have fun. I think Isaac did the same. We did a few things together. It was just nice to be able to play here and give pleasure to our public. "
A one-of-a-kind specimen
Joined by his parents, including his father Eric who arrived just before the Friday night game, Evan Mobley was able to enjoy special moments with his family in his new adopted city. Before returning the shot from midfield to carry his Cavs trio to victory at the start of the Skills Challenge.
"I would say that this weekend met my expectations," he confirmed. "With the number of people who have come here to Cleveland and all the celebrities, plus former All Stars. It definitely met my expectations. "
Never one to get too fired up, Evan Mobley is a star in the making for the Cavs. His first starry weekend is therefore probably not the last for the solid and serious interior of Ohio.
"DG said it very well, he is one of a kind", concludes Jarrett Allen. "Defence, attack, and now even shooting from midfield! "
Evan Mobley
Percentage
Bounces
Season
Team
GM
Minimum
Shots
3 points
LF
Off
Def
Early
pd
party
Int
bp
CT
Points
2021-22
KEY
50
34
50.3
26.5
67.2
1.9
6.2
8.1
2.6
2.0
0.8
2.0
1.6
14.9
Total
50
34
50.3
26.5
67.2
1.9
6.2
8.1
2.6
2.0
0.8
2.0
1.6
14.9