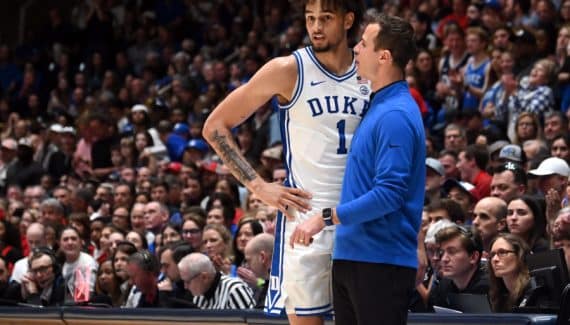 Unlike Tyrese Proctor but like Dariq Whitehead, the two other "freshmen" of duke this season, Dereck Lively II intends to join the pros after just one season with the Blue Devils.
This is indeed what he announced via his Twitter account this Tuesday, putting an end to speculation on the side of the Durham campus, where the (naive) hope of his return remained until the last moment.
Ranked second among the best high school students in the class of 2022 last year, Derek Lively II slowly started his "freshman" exercise, the fault in particular of a calf injury contracted in October. Its rise to power was therefore gradual and slower than expected, but its emergence was all the more beautiful.
Particularly during the second half of the season in February and March, when his profile as a hoop protector " changed the face of the team ", to answer the words of his coach Jon Scheyer. Against North Carolina at the beginning of February, for example, he compiled 14 rebounds and 8 blocks (!), before ending the season with 20 blocks in total over the last four games! Throughout his "freshman" season (34 games for 20.6 minutes), he shot 2.4 blocks per game, the 10th best average in the country.
"7-footer" from the height of his 2m16, he represents at the upper level a profile appreciated on post 5: a defensive control tower and a point of attachment in attack, like a Walker Kessler for example .
An intelligent player, endowed with a good sense of the game, he also shines with his passing skills, in particular in the "short corner", and in this will certainly establish himself as a useful player in a rotation from his first steps in the NBA. in September. Even if he will quickly have to grow physically to hold up against the ogres in his position.