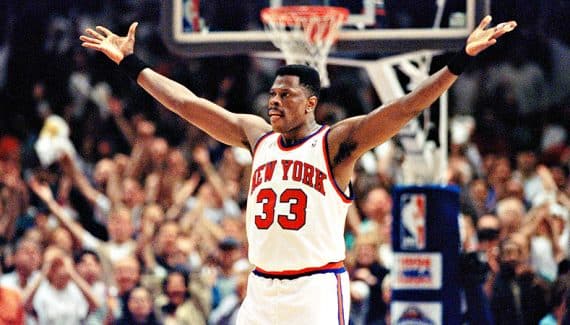 More than twenty years later, the Knicks are still chasing a new opportunity. Since the 2000 Conference Finals against Indiana, New York has only made the playoffs seven times and only made it past the first round in 2013 and this season.
But in addition to being the last chance to get close to the Finals, this Game 6 of the 2000 conference final, played on June 2, remains a memorable date for fans. It is indeed the last match of Patrick Ewing, the local legend, under the colors of the franchise of "Big Apple".
The Knicks are led 3-2 and the return to Madison Square Garden should serve as a springboard to snatch a Game 7 and then find the Finals, disputed the previous season but lost against the Spurs. Except that the Pacers, already conference finalists in 1998 and 1999, are too strong this time.
Patrick Ewing, Latrell Sprewell, Allan Houston and company are dominated, except for a start in the third quarter. Damaged by injuries (wrist, tendonitis in the foot, etc.) repeatedly for several years, the great Pat has compiled 18 points and 12 rebounds. In vain.
Eternal regrets
Indiana won 80-93, eliminated his opponent, validated his ticket for the Finals against the Lakers and precipitated, without anyone suspecting it, the departure of Patrick Ewing…
"I wish I had known it was my last game when I played it"today regrets the 1992 Olympic champion at the New York Post. "I would have liked to engrave certain images in my memory. All I know is that the season ended with a loss. Once again. »
Unable to agree with the Knicks for a new contract, Patrick Ewing requests his transfer during the summer. On September 20, 2000, the improbable happened: he was transferred to Seattle in a trade involving twelve players and four teams.
Seeing the pivot with the Sonics then Magic jersey will remain a strange sensation, as for Hakeem Olajuwon in Toronto or Tony Parker in Charlotte. A decision which, again, gave rise to regrets in Ewing.
"In hindsight, I tell myself that I would have done better to stay in New York"he said in 2016. "But after fifteen years of always hearing the same thing, that the team would be better without me, that we had to play faster, by dint of also hearing noises in the locker room, I had my slap and I am gone. I requested an exchange. It's a shame, I would have liked to end there. »