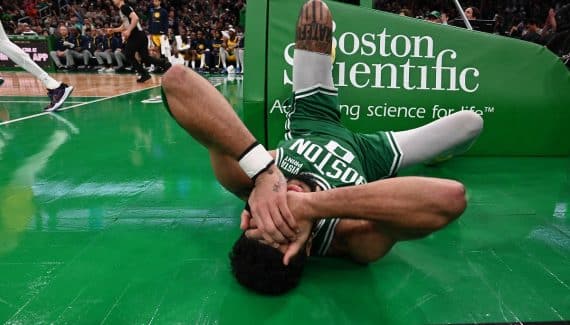 The Cetics were not doing well in recent days, but they had never shown such a level of mediocrity as in this first half against Indiana. The start of the game was successful, but the Pacers then went 26-5 in six minutes!
At the start of the second act, there is thus a twenty point gap and the Boston defense has already conceded 42 points in 12 minutes. There is no reaction in the second quarter. Therefore, Tyrese Haliburton and company can take a thirty-point lead… The fans then ostensibly showed their displeasure.
"I'm not really worried in the sense that we were dominated, in terms of effort, in the first half"notes Joe Mazzulla at the Boston Globe. "I would be more worried if we hadn't played the second half completely differently. We had a choice to make: which team do we want to be? That of the first or that of the second period? »
The Celtics will indeed show a different face after the break. Jayson Tatum scores 15 points in the third quarter, the defense causes six loose balls and Boston has come halfway before the last quarter, now fifteen points behind.
"We have to learn to win again"
Jayson Tatum, who will finish with 41 points, continues his effort with 13 points in the last act and three minutes from the end, after an award-winning basket from Jaylen Brown, there are only five points left between the two teams. Eventually, the Pacers will grit their teeth and win.
"We went too deep to really come back"regrets Malcolm Brogdon for the official franchise website. "We needed that sense of urgency and it starts there. The second half proved that we could play like this. And I think we'll do it again. »
Even if it is not crowned with a victory, this reaction pleased Joe Mazzulla. The Celtics are in the tough, they were more than overwhelmed for twenty minutes, obviously, but they did not let go.
"I'm not worried, you have to trust the players. I would be more worried if we had had two bad halves. But we weren't good for just one out of two. We didn't play well, but moments like that are important for confidence in the guys. They have seen others, they have already played matches like this and they have bounced back. »
With five defeats in six games, including three in a row at TD Garden, we will still have to bounce back. How to do ? "We have to learn to win again," announces Jayson Tatum. "It's not as simple as that, but we have to find the pleasure. We played a little shy, whereas basketball is supposed to be fun. »
Shots
Bounces
Players
GM
Minimum
Shots
3 points
LF
Off
Def
Early
pd
bp
Int
CT
party
Points
Jayson Tatum
29
37.0
47.0
35.8
86.1
1.2
7.0
8.2
4.1
2.8
1.1
0.9
2.2
30.2
Jaylen Brown
29
35.8
49.6
33.8
81.2
1.1
6.4
7.4
3.5
3.2
1.2
0.5
2.8
26.4
Malcolm Brogdon
26
23.9
48.6
46.2
86.8
0.8
3.3
4.1
3.7
1.8
0.5
0.3
1.6
13.8
Marcus Smart
28
33.2
43.1
34.0
77.4
0.6
2.7
3.3
7.3
2.4
1.3
0.4
3.1
11.8
Al Horford
22
31.0
51.9
44.6
62.5
0.9
5.3
6.2
2.6
0.7
0.4
1.1
2.0
9.9
Derrick White
31
25.6
43.9
39.4
87.1
0.5
2.3
2.8
3.1
0.9
0.8
0.7
2.4
9.9
Grant Williams
30
28.6
53.3
43.8
81.8
0.9
3.7
4.6
1.7
0.9
0.8
0.3
2.6
9.4
Robert Williams
2
17.5
77.8
0.0
50.0
1.5
3.5
5.0
1.0
0.5
0.5
1.5
2.0
7.5
Sam Hauser
31
16.1
46.3
42.0
77.8
0.4
2.1
2.5
0.7
0.3
0.2
0.2
1.3
6.5
Blake Griffin
14
15.9
50.9
34.8
71.4
1.1
3.1
4.2
1.3
0.4
0.2
0.1
2.1
5.6
Payton Pritchard
18
11.1
39.2
34.0
70.0
0.6
0.9
1.4
1.1
0.8
0.3
0.1
0.4
4.7
Luke Kornet
26
13.5
70.6
33.3
83.3
1.3
2.1
3.4
0.8
0.4
0.2
0.9
1.5
4.3
Mfiondu Kabengele
1
8.3
50.0
0.0
0.0
3.0
1.0
4.0
0.0
0.0
0.0
0.0
1.0
2.0
noah vonleh
19
8.4
45.8
25.0
100.0
0.9
1.5
2.4
0.3
0.6
0.1
0.4
1.8
1.3
Jd Davison
3
2.8
25.0
0.0
0.0
0.0
0.3
0.3
0.3
0.3
0.3
0.0
0.0
0.7
justin jackson
12
5.1
15.4
18.2
0.0
0.0
0.6
0.6
0.3
0.1
0.2
0.2
0.3
0.5