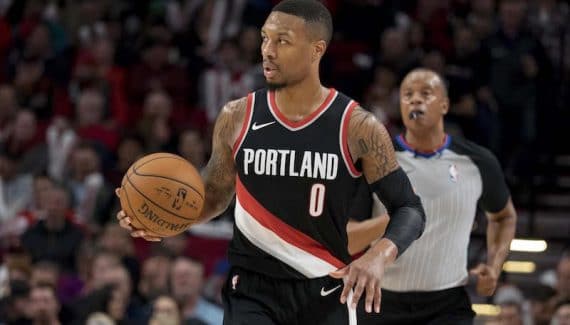 Even if, in the standings, the Blazers still have chances to snatch a place for the "play-in", the departures of CJ McCollum, Norman Powell, Larry Nance Jr and Robert Covington are a clear message on the ambitions of the franchise. by the end of the season.
Therefore, Damian Lillard, currently dismissed to treat his pubalgia, will he come back? Besides, where is he physically?
"He is on time in his rehabilitation"announces the acting GM, Joe Cronin, for The Oregonian. "We are already four weeks after his operation, so everything is fine. He starts doing cardio and he kicks a little. "
The question of his return this season arises since the playmaker had clearly stated that if his team played for "a draft choice"we should no longer count on him for the end of this 2021/2022 financial year.
Without openly saying it, the franchise seems to confirm the idea of ​​a possible end to the season in the infirmary, in order to best prepare for next season and, for "Lady", to no longer have the worries of pubalgia, which have bothered so much since the Tokyo Olympics last summer.
"For Damian, it's also a mental break", continues the GM. "It's important, especially after nine seasons where he carried our team, especially with the last three seasons which have been very close. We want to make sure he recovers well mentally as well. So, yes, we're going to take it very slowly with him, with next year in sight. "
Damian Lillard
Percentage
Bounces
Season
Team
GM
Minimum
Shots
3 points
LF
Off
Def
Early
pd
party
Int
bp
CT
Points
2012-13
ORP
82
39
42.9
36.8
84.4
0.5
2.6
3.1
6.5
2.1
0.9
3.0
0.2
19.1
2013-14
ORP
82
36
42.4
39.4
87.1
0.4
3.1
3.5
5.6
2.4
0.8
2.4
0.3
20.7
2014-15
ORP
82
36
43.4
34.3
86.4
0.6
4.0
4.6
6.2
2.0
1.2
2.7
0.3
21.0
2015-16
ORP
75
36
41.9
37.5
89.2
0.6
3.4
4.0
6.8
2.2
0.9
3.2
0.4
25.1
2016-17
ORP
75
36
44.4
37.0
89.5
0.6
4.3
4.9
5.9
2.0
0.9
2.6
0.3
27.0
2017-18
ORP
73
37
43.9
36.1
91.6
0.9
3.6
4.5
6.6
1.6
1.1
2.8
0.4
26.9
2018-19
ORP
80
36
44.4
36.9
91.2
0.9
3.8
4.6
6.9
1.9
1.1
2.7
0.4
25.8
2019-20
ORP
66
38
46.3
40.1
88.8
0.5
3.8
4.3
8.0
1.7
1.1
2.9
0.3
30.0
2020-21
ORP
67
36
45.1
39.1
92.8
0.5
3.8
4.2
7.5
1.5
0.9
3.0
0.3
28.8
2021-22
ORP
29
36
40.2
32.4
87.8
0.5
3.7
4.1
7.3
1.3
0.6
2.9
0.4
24.0
Total
711
36
43.7
37.3
89.3
0.6
3.6
4.2
6.7
1.9
1.0
2.8
0.3
24.6