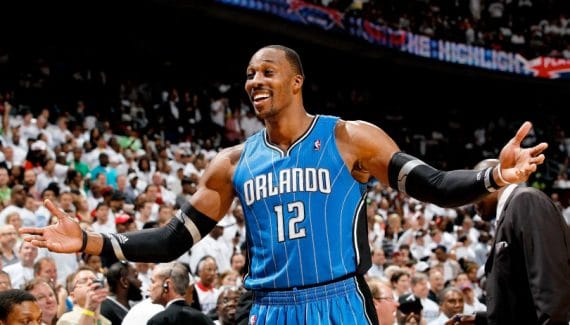 In the line of Wilt Chamberlain, Bill Russell, Kareem Abdul-Jabbar, Moses Malone, Hakeem Olajuwon, Patrick Ewing, David Robinson and other Shaquille O'Neal, Dwight Howard was a dominant pivot. No offense to his detractors, "Superman" ruled the rackets in the late 2000s and early 2010s.
Able to shoot nearly 21 points, 14 rebounds and 3 blocks on average, between 2007 and 2012, "D12" was indeed a real force of nature with the Magic, which he also managed to lead to in the Finals, in 2009. Very few opposing interiors could thus stand up to the triple Defender of the Year (2009, 2010, 2011) and, to slow him down, you had to press his "Kryptonite": free throws.
After the "Hack-a-Shaq", it is therefore the no less famous "Hack-a-Dwight" which began to become widespread in the NBA, in the early 2010s. Sometimes giving rise to sequences as lunar as they are ridiculous , with players who entered the floor only to multiply the faults on Dwight Howard, then forced to play cat and mouse with his opponents, launched in pursuit at each throw-in…
And it was more than ever the case on January 12, 2012.
Just ten years ago, in this season cut short by the "lockout", Orlando (one of the best teams in the league) moved to Golden State (one of the worst teams in the league). That night, the Warriors showed up without Kwame Brown, with David Lee, Andris Biedrins, Ekpe Udoh, Jeremy Tyler and Dominic McGuire to hold the 2004 Draft starter inside.
The first 40/20 since 2003
Suffice to say that Dwight Howard wandered into the "Dubs" racket, led by Monta Ellis, orphans of Stephen Curry (ankle) and where we found a rookie named Klay Thompson. And, in almost 44 minutes of play, "D12" compiled a whopping 45 points (career record), 23 rebounds, 3 assists, 4 steals and 2 blocks!!!
All at 12/21 on shots and… 21/39 on free throws! Yes, yes: 39 free throws attempted in a single game. A staggering total, which some cannot even reach over a full season. And which had, above all, never been reached before, the previous record in the matter belonging to Wilt Chamberlain, another renowned pivot, with 34 attempts on the line (for 19 successes), on February 22, 1962.
If the five-time best rebounder in the league (2008, 2009, 2010, 2012, 2013) has, as often, wasted a lot on throws (57% in career and 49% in 2011/12), he will however have allowed the Magic to start again of the Oracle Arena with the victory (117-109). Martyrizing the poor interiors of Golden State with dunks, offensive rebound taps, "hook shots" and "alley-oops". But also with free throws, since he scored almost half of his points there that evening.
Note that, barely a year and a change of team later, Dwight Howard would allow himself to equal his own NBA record, in terms of shots attempted in a single game. And, as a symbol, it is against the Magic that the eight-time All-Star would succeed in a (more acceptable) 25/39 on the line, on March 12, 2013, with the Lakers.
Since then, only two have approached the "D12" mark: DeAndre Jordan, with his 12/34 on November 30, 2015, and especially Andre Drummond, with his 13/36 on January 20, 2016. Finally, to be completely quite comprehensive on the subject, it should be noted that Shaquille O'Neal holds the NBA record for throwing attempts, in a playoff game: 39 also (for 18 successes), on June 9, 2000.
Dwight Howard
Percentage
Rebounds
Season
Team
MJ
Minimum
Shots
3pts
LF
Off
Def
Early
Pd
Fte
Int
Bp
Ct
Pts
2004-05
ENT
82
33
52.0
0.0
67.1
3.5
6.5
10.0
0.9
2.8
0.9
2.0
1.7
12.0
2005-06
ENT
82
37
53.1
0.0
59.5
3.5
9.0
12.5
1.5
3.4
0.8
2.7
1.4
15.8
2006-07
ENT
82
37
60.3
50.0
58.6
3.5
8.8
12.3
1.9
3.0
0.9
3.9
1.9
17.6
2007-08
ENT
82
38
59.9
0.0
59.0
3.4
10.8
14.2
1.3
3.3
0.9
3.2
2.2
20.7
2008-09
ENT
79
36
57.2
0.0
59.4
4.3
9.6
13.8
1.4
3.4
1.0
3.0
2.9
20.6
2009-10
ENT
82
35
61.2
0.0
59.2
3.5
9.7
13.2
1.8
3.5
0.9
3.3
2.8
18.3
2010-11
ENT
78
38
59.3
0.0
59.6
4.0
10.1
14.1
1.4
3.3
1.4
3.6
2.4
22.9
2011-12
ENT
54
38
57.3
0.0
49.1
3.7
10.8
14.5
1.9
2.9
1.5
3.2
2.2
20.6
2012-13
LAL
76
36
57.8
16.7
49.2
3.3
9.1
12.4
1.4
3.8
1.1
3.0
2.5
17.1
2013-14
HOU
71
34
59.1
28.6
54.7
3.3
8.9
12.2
1.9
3.4
0.9
3.2
1.8
18.3
2014-15
HOU
41
30
59.3
50.0
52.8
2.7
7.8
10.5
1.2
3.3
0.7
2.8
1.3
15.8
2015-16
HOU
71
32
62.0
0.0
48.9
3.4
8.4
11.8
1.4
3.1
1.0
2.3
1.6
13.8
2016-17
ATL
74
30
63.3
0.0
53.3
4.0
8.7
12.7
1.4
2.7
0.9
2.3
1.2
13.5
2017-18
CHA
81
30
55.5
14.3
57.4
3.2
9.4
12.5
1.3
3.1
0.6
2.6
1.6
16.6
2018-19
WAS
9
26
62.3
0.0
60.4
2.7
6.6
9.2
0.4
3.8
0.8
1.8
0.4
12.8
2019-20
LAL
69
19
72.9
60.0
51.4
2.5
4.9
7.4
0.7
3.2
0.5
1.2
1.1
7.5
2020-21
PHL
69
17
58.7
25.0
57.6
2.8
5.7
8.4
0.9
2.9
0.4
1.6
0.9
7.0
2021-22
LAL
31
15
60.6
75.0
61.7
1.7
3.7
5.4
0.6
1.9
0.7
0.8
0.6
5.1
Total
1213
32
58.6
20.8
56.6
3.4
8.5
11.9
1.4
3.2
0.9
2.7
1.8
15.9