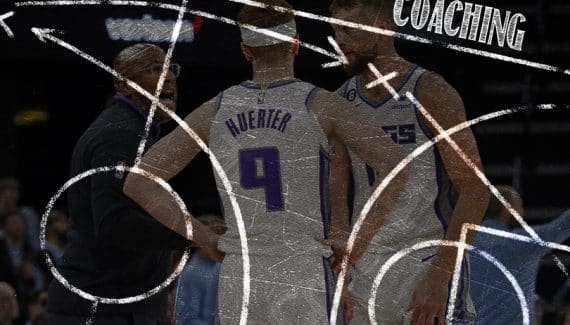 Despite four losses to start, the Kings are the nice surprise of this start to the campaign. By winning 10 of their last 12 games, and while they could even have a perfect record over the period without the refereeing errors, Mike Brown's troupe has in any case managed to climb to the Top 3 of the 'West !
Thanks of course to a De'Aaron Fox in great shape, but also to a Kevin Huerter – Domantas Sabonis duo who get along very well… and who create a lot of things for the rest of the team.
Hand-to-hand to free the shooter… and destabilize the defense
The team's third-best scorer (16.7 points per game), the former Hawks player is shooting above all at a superb 50% from 3-point range, on a high volume (7.4 attempts from distance per game). As Kevin Durant explains, Kevin Huerter is playing at an incredible level at the start of the season, and it is particularly linked to his duet with Domantas Sabonis.
Because the Lithuanian "offers" him a good number of open positions, via hand-to-hand. Example against the Grizzlies.
This hand-to-hand often comes after a first screen, which allows Kevin Huerter to be very distinguished. But what is particularly interesting is that this two-player game is not just a result of actions. Very often, the back takes advantage of a destabilized defense to trigger something else.
On this action, the hand-to-hand between Kevin Huerter and Domantas Sabonis thus forces Ja Morant to leave his player to cut off the dribble of the opposing back. Davion Mitchell immediately takes the opportunity to cut behind his back (a strategy we see more and more) in order to draw the help into the key. And it works as Santi Aldama and Steven Adams rush together… and therefore leave Harrison Barnes completely alone in the opposite.
The best duo of the start of the season?
Similar situation late in the game, with a hand-to-hand fight that is masked, then draws two defenders to help in the key. After the transition by De'Aaron Fox, Harrison Barnes still scored an important 3-pointer.
Proof that the duo is essential to this version of the Kings, which has the second best attack at the start of the season? It is the duo with the best "Net Rating", among the duos who have walked the court for more than 400 minutes in this campaign. When playing together, the Kings average 12.1 points more than their opponents on 100 possessions. This is better than the Devin Booker – Mikal Bridges (+10.2), Stephen Curry – Draymond Green (+10.1) or Kyle Kuzma – Kristaps Porzingis (+10.1) duos.
Shots
Bounces
Players
GM
Minimum
Shots
3 points
LF
Off
Def
Early
pd
bp
Int
CT
party
Points
De'aaron Fox
14
32.2
55.8
38.2
84.5
0.5
4.3
4.8
6.4
2.7
1.1
0.4
2.9
25.4
Domantas Sabonis
15
31.9
59.0
31.3
74.7
2.3
8.6
10.9
6.0
2.3
0.9
0.5
4.0
17.5
Kevin Hurter
15
32.3
50.0
49.5
66.7
0.3
2.7
2.9
3.5
1.5
0.9
0.4
2.3
16.6
Malik Monk
15
21.7
45.2
36.7
93.8
0.5
1.9
2.3
4.1
1.7
0.5
0.3
1.7
12.7
Harrison Barnes
15
31.2
46.4
26.5
84.7
1.2
4.5
5.7
2.2
0.9
0.8
0.2
1.3
12.7
Keegan Murray
13
30.7
44.7
35.9
78.6
0.6
2.9
3.5
1.1
1.6
0.9
0.7
2.2
12.1
Terence Davis
14
13.1
48.1
42.0
85.7
0.4
2.4
2.8
1.5
0.6
0.8
0.2
1.8
7.8
Trey Lyles
13
14.7
39.5
34.5
66.7
0.8
1.8
2.5
0.8
0.9
0.4
0.4
1.0
6.8
Davion Mitchell
15
18.9
47.1
33.3
66.7
0.1
1.2
1.3
2.1
1.1
0.4
0.1
1.5
6.7
Chimezie Metu
11
12.4
55.8
15.4
85.7
0.5
2.5
3.0
0.8
0.6
0.5
0.1
1.0
5.1
Richaun Holmes
9
12.0
72.7
100.0
66.7
0.9
1.8
2.7
0.0
0.6
0.2
0.1
1.9
4.1
Matt Dellavedova
5
7.6
33.3
66.7
0.0
0.2
0.4
0.6
1.6
0.6
0.4
0.0
1.0
1.6
Kz Okpala
8
6.6
33.3
25.0
100.0
0.3
0.5
0.8
0.4
0.0
0.0
0.0
0.8
1.1
Alex Len
5
3.0
66.7
0.0
50.0
0.0
0.6
0.6
0.0
0.0
0.0
0.0
0.4
1.0
Chima Moneke
2
4.0
50.0
0.0
0.0
1.0
0.0
1.0
0.5
1.0
0.0
0.0
1.0
1.0
Keon Ellis
1
1.6
0.0
0.0
0.0
0.0
0.0
0.0
0.0
0.0
0.0
0.0
1.0
0.0