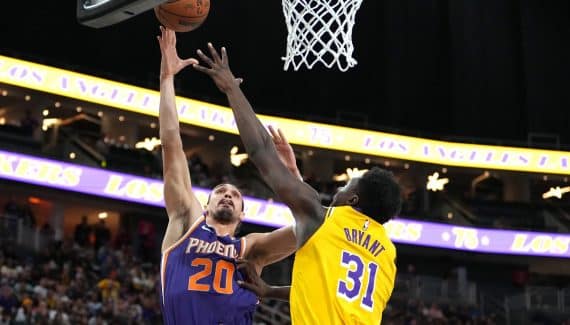 The absence of Deandre Ayton, following his ankle injury, did not change much for Dario Saric. The interior of Phoenix is ​​still stuck on the bench since the start of the season and he has only walked the floors for two games and seven tiny minutes in total.
Inevitably, after a white season following his cruciate ligament injury in the 2021 Finals, it's frustrating…
" It is not easy ", recognizes the 28-year-old Croatian, for the Arizona Republic. "We don't want it to last too long. I arrive in the best years of my career so I want to play. It's hard. I'm not going to lie and say it's easy going. I come to the gym to work hard, stay in good shape and wait for my chance. »
Against Wolves, Monty Williams used Dario Saric for five minutes, to bring some size and not let Torrey Craig deal with Naz Reid. "It was good to play a little", says the player. "To feel the floor a little, to see the public. »
He could even have stayed on the pitch longer because his coach said he made a mistake. "I should have brought Dario in earlier against Naz", analyzes the coach of the 2021 finalists. "They evolved with two big ones and Naz found himself facing a small one. It's my fault, I should have launched Dario. »
The opportunity has passed. And with the future return of Deandre Ayton, who could play again this Friday against Portland, plus a provided interior sector (Bismack Biyombo, Jock Landale), without forgetting the rise in power of a Cameron Johnson, Dario Saric will undoubtedly have difficulty to play regularly this season.
Dario Saric
Percentage
Bounces
Season
Crew
GM
Minimum
Shots
3 points
LF
Off
Def
Early
pd
party
Int
bp
CT
Points
2016-17
PHL
81
26
41.1
31.1
78.2
1.4
5.0
6.3
2.3
2.0
0.7
2.3
0.4
12.8
2017-18
PHL
78
30
45.3
39.3
86.0
2.0
4.7
6.7
2.6
2.1
0.7
1.9
0.3
14.6
2018-19 *
All Teams
81
25
43.7
36.5
88.0
1.6
4.1
5.7
1.6
2.3
0.6
1.2
0.1
10.6
2018-19 *
MIN
68
24
45.4
38.3
87.5
1.5
3.9
5.5
1.5
2.1
0.6
1.1
0.1
10.5
2018-19 *
PHL
13
31
36.4
30.0
90.0
1.6
5.1
6.7
2.0
3.0
0.3
1.9
0.2
11.1
2019-20
PHX
66
25
47.6
35.7
84.4
1.5
4.6
6.2
1.9
2.4
0.6
1.3
0.2
10.7
2020-21
PHX
50
17
44.7
34.8
84.8
0.9
2.9
3.8
1.3
1.9
0.6
1.1
0.1
8.7
2022-23
PHX
2
3
50.0
100.0
0.0
0.5
1.0
1.5
0.5
0.5
0.5
0.0
0.0
1.5
Total
358
25
44.1
35.8
83.8
1.5
4.3
5.8
2.0
2.1
0.6
1.6
0.2
11.7