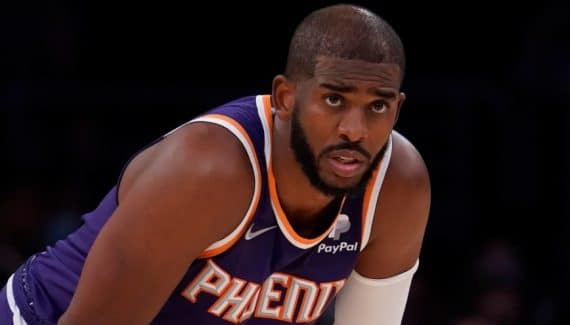 Just before the All-Star Game began, the Suns learned very bad news: the absence of Chris Paul, for six to eight weeks.
If he still wanted to play 2 minutes during this star game, "CP3" does indeed suffer from a fracture of his right thumb, which will probably prevent him from completing this regular season with Phoenix. Because, in the best case, the All-Star leader should not return until the end of March (if he is absent six weeks), if not in mid-April (if he is absent eight weeks).
Above all, remember that Chris Paul, who is one of eight players to have missed no game this season (for 14.9 points, 4.5 rebounds, 10.7 assists and 1.9 interceptions on average), is likely to miss the start of the playoffs, set for April 16, because it will not be reviewed for a good month and a half.
Suffice to say that the Suns, currently leaders of the conference West (48 wins – 10 losses), will have to stand up collectively to avoid falling in the standings in the West. As for Devin Booker and Deandre Ayton (without forgetting Cameron Payne, Aaron Holiday and Elfrid Payton in the lead), they will have to raise their level of play a little more, to keep their team afloat and resist the return of the Warriors.
Chris Paul
Percentage
Bounces
Season
Team
GM
Minimum
Shots
3 points
LF
Off
Def
Early
pd
party
Int
bp
CT
Points
2005-06
NOP
78
36
43.0
28.2
84.7
0.8
4.4
5.1
7.8
2.8
2.2
2.4
0.1
16.1
2006-07
NOP
64
37
43.7
35.0
81.8
0.8
3.5
4.4
8.9
2.4
1.8
2.5
0.1
17.3
2007-08
NOP
80
38
48.8
36.9
85.1
0.8
3.2
4.0
11.6
2.3
2.7
2.5
0.1
21.1
2008-09
NOP
78
39
50.3
36.4
86.8
0.9
4.7
5.5
11.0
2.7
2.8
3.0
0.1
22.8
2009-10
NOP
45
38
49.3
40.9
84.7
0.4
3.8
4.2
10.7
2.6
2.1
2.5
0.2
18.7
2010-11
NOP
80
36
46.3
38.8
87.8
0.5
3.6
4.1
9.8
2.5
2.4
2.2
0.1
15.9
2011-12
LAKE
60
36
47.8
37.1
86.1
0.7
2.9
3.6
9.1
2.3
2.5
2.1
0.1
19.8
2012-13
LAKE
70
33
48.1
32.8
88.5
0.8
3.0
3.7
9.7
2.0
2.4
2.3
0.1
16.9
2013-14
LAKE
62
35
46.7
36.8
85.5
0.6
3.7
4.3
10.7
2.5
2.5
2.3
0.1
19.1
2014-15
LAKE
82
35
48.5
39.8
90.0
0.6
4.0
4.6
10.2
2.5
1.9
2.3
0.2
19.1
2015-16
LAKE
74
33
46.2
37.1
89.6
0.5
3.7
4.2
10.0
2.5
2.1
2.6
0.2
19.5
2016-17
LAKE
61
32
47.6
41.1
89.2
0.7
4.3
5.0
9.2
2.4
2.0
2.4
0.1
18.1
2017-18
HOO
58
32
46.0
38.0
91.9
0.6
4.8
5.4
7.9
2.4
1.7
2.2
0.2
18.6
2018-19
HOO
58
32
41.9
35.8
86.2
0.6
4.0
4.6
8.2
2.5
2.0
2.6
0.3
15.6
2019-20
OKAY
70
32
48.9
36.5
90.7
0.4
4.6
5.0
6.7
2.3
1.6
2.3
0.2
17.6
2020-21
PHX
70
31
49.9
39.5
93.4
0.4
4.1
4.5
8.9
2.4
1.4
2.2
0.3
16.4
2021-22
PHX
58
33
48.7
33.0
84.3
0.3
4.2
4.5
10.7
2.0
1.9
2.4
0.3
14.9
Total
1148
35
47.3
37.0
87.2
0.6
3.9
4.5
9.5
2.4
2.1
2.4
0.2
18.2