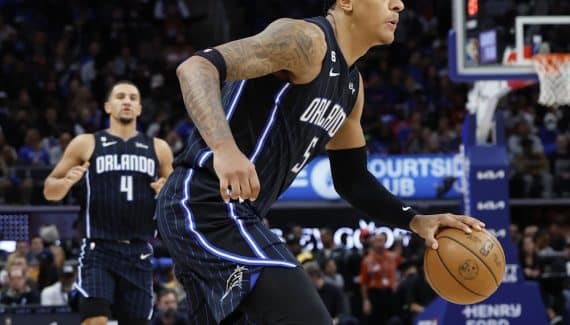 Number 1 of the last Draft, Paolo Banchero had already passed the preliminary stages of the summer league and the preseason without flinching.
Wednesday night, for his debut, the Italian-American Magic winger again passed the bar with ease by signing a four-star performance with 27 points, 9 rebounds and 5 assists. He is the first rookie since LeBron James to turn in a copy with at least 25 points, 5 rebounds and 5 assists for his very first official outing.
"It's significant but obviously I would have preferred to have won"said the rookie on ESPN. "I just wanted to play hard and play for the team. That's what came out of it, I'm happy about it. »
Directly in action with the first four points of the match, and a first quarter with 7 points at 3/3 on shots, Paolo Banchero went even harder in the final stretch, while his Magic chased the score late in the game . With 13 points at 5/8 in the final quarter, including a huge post over Cory Joseph, the former Dukie nearly pulled off the heist for Orlando, closing the gap to -2 at 33 seconds from the gong.
"That's how I want to play: close to the circle first before I can get away from it"
He is now the Magic rookie with the most points for his debut, far ahead of Shaquille O'Neal, Penny Hardaway or Dwight Howard, all three stuck at 12 units. Truth be told, still in the category of fairly anecdotal stats, the Magic even became the first team in history to have three players aged 21 or under score 20 or more points for an opener, with Paolo Banchero therefore , Franz Wagner and Jalen Suggs.
"It's crazy because I think I left a lot of points along the way. You have to give credit to my teammates who found me well. It's always good to see the ball go into the circle early in the game, with easy baskets near the circle. That's how I want to play: close to the circle first before I can get away from it. I want to find easy baskets before extending my game and doing more things as the game goes on. »
If he lost 4 balls, that's the only criticism we can make him! Because, with 11/18 shooting and 5/7 throwing, Paolo Banchero did not waste a lot of ammunition. Even more promising, he showed that he could also weigh on the game in defense, by agreeing to the efforts on this side of the field too, with two counterattacks including one on Killian Hayes who thought he had a ready-made dunk on the counter-attack.
"He behaved really well. He found his spots, he ran on transition, he was physical, he was rebounding. He made the right choices in attack. Paolo did a great job," concludes Jalen Suggs. "We will continue to give him the ball and we will continue to grow. Moments like this are important to us. We absolutely have to improve this season, and he has shown us a lot of good things [hier] evening. »
Paolo Banchero
Percentage
Bounces
Season
Crew
GM
Minimum
Shots
3 points
LF
Off
Def
Early
pd
party
Int
bp
CT
Points
2022-23
ENT
1
35
61.1
0.0
71.4
2.0
7.0
9.0
5.0
5.0
0.0
4.0
2.0
27.0
Total
1
35
61.1
0.0
71.4
2.0
7.0
9.0
5.0
5.0
0.0
4.0
2.0
27.0