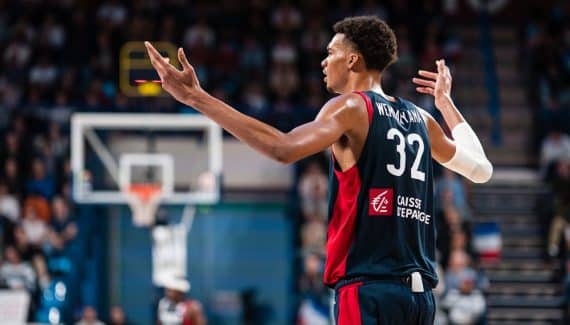 The second phase of qualifying for the 2023 World Cup had started before the Euro, on August 24 with a big victory against the Czech Republic at the Accor Arena. Before biting the dust against Bosnia and Herzegovina in stride, in the overheated room of Sarajevo.
In the latest edition of the Team France web-series, we can immerse ourselves with pleasure in these behind-the-scenes images. Like when when Vincent Collet bit a big mouthful after the defeat to reframe his players who forget to make passes, to "hurt" on the screens, to sacrifice themselves for each other. But also action. Like when Jusuf Nurkic crushed Vincent Poirier in the dunk!
Above all, we can pick up the thread of these disparate international windows with the emergence of a brand new team, of which Victor Wembanyama is of course the nugget. We see him working on his already famous 3-point shot on one foot after various dribbling sequences, with such technical ease that Vincent Collet can't help but smile from ear to ear!
"I don't know about other countries, but I know that in France, the national team seems to me to be a major thing for all basketball players. Personally, national identity is something strong", explains Victor Wembanyama before adding. " I don't have a problem with media interest, as long as it doesn't interfere with my basketball, my recuperation or my sleeping hours, I don't mind. Anyway, that's part of the job. When you want to be part of the elite, you know that you will be in great demand by the media. »
But we also don't forget Juhann Bégarin, Yoan Makoundou, Damien Inglis and Ismaël Kamagaté, who also did quite well in their respective debuts under the tricolor tunic. Not to mention Sylvain Francisco who caused a sensation, with his dunk, but even more with his solid performances.