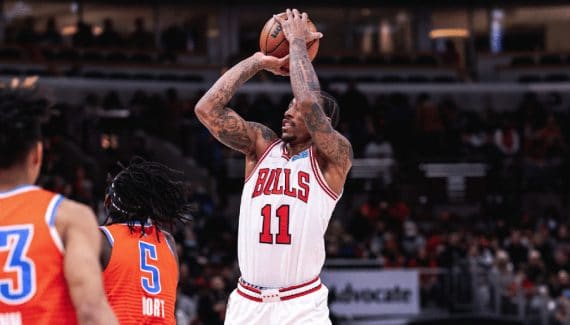 As Zach LaVine spares his knee, DeMar DeRozan continues the performances, and this night, he signed a sixth game in a row at 30 points and more to allow the Bulls to dominate the Thunder. Author of 38 points at 50% in shots with a 14 of 16 in free throws, the former Raptors and Spurs took full advantage of the evening to register his name next to that of Michael Jordan!
That night, he thus chained a fifth game in a row to 35 points and more. Only "His Highness" had achieved such a feat in the Bulls jersey. It was twice, and the last time was in 1996.
"I salute what he does because he gives his all, and he takes care of himself. He is an incredible professional, always ready" praises Billy Donovan. "He's the best scorer I've ever known."
"There wasn't a single game where I walked out thinking, 'I did everything perfectly'"
Beautiful tribute while Billy Donovan had under his orders Kevin Durant, Russell Westbrook, Carmelo Anthony and Paul George…
"No one can stop it" believes Derrick Jones Jr. "For some reason, everyone I know opposite wanted to meet him. I let them know they were going to have a hell of a night defending on him. I'm going to trashtalk for him."
With six games in a row at 30 points or more, DeMar DeRozan is on his best career streak, but he only remembers one thing: victory.
"I didn't know… Regardless of the records and accomplishments, my only motivation in the way I play is winning. And whatever the personal success behind it, it comes with it" he explains, almost embarrassed to learn that he equals Michael Jordan. "It's just an honor to have my name by his side. But I don't know what show I'm on… I'm just myself. When I play a good match, I always look at the negatives, the things I could have done better. There wasn't a single match where I walked out saying to myself, 'I did everything perfectly'. There is always room for some form of improvement. "
Another element that is close to his heart, the return of the injured. Tonight Derrick Jones Jr was there, and he can't wait to reunite with Ball, Caruso and Williams. " It's like a dream. I dream of it every night. I see it as a beautiful island, in the sun. That's how I imagine us when we're all well."
https://www.youtube.com/watch?v=GVQ2vZA6Hu0
DeMar DeRozan
Percentage
Bounces
Season
Team
GM
Minimum
Shots
3 points
LF
Off
Def
Early
pd
party
Int
bp
CT
Points
2009-10
TOR
77
22
49.8
25.0
76.3
0.9
2.0
2.9
0.7
2.3
0.6
0.8
0.2
8.6
2010-11
TOR
82
35
46.7
9.6
81.3
0.9
2.9
3.8
1.8
2.7
1.0
1.8
0.4
17.2
2011-12
TOR
63
35
42.2
26.1
81.0
0.6
2.7
3.4
2.0
2.6
0.8
2.0
0.3
16.7
2012-13
TOR
82
37
44.5
28.3
83.1
0.6
3.3
3.9
2.5
2.1
0.9
1.8
0.3
18.1
2013-14
TOR
79
38
42.9
30.5
82.4
0.7
3.7
4.3
4.0
2.5
1.1
2.2
0.4
22.7
2014-15
TOR
60
35
41.3
28.4
83.2
0.7
3.9
4.6
3.5
2.0
1.2
2.3
0.2
20.1
2015-16
TOR
78
36
44.6
33.8
85.0
0.8
3.7
4.5
4.0
2.1
1.0
2.2
0.3
23.5
2016-17
TOR
74
35
46.7
26.6
84.2
1.0
4.3
5.2
3.9
1.8
1.1
2.4
0.2
27.3
2017-18
TOR
80
34
45.6
31.0
82.5
0.7
3.2
3.9
5.2
1.9
1.1
2.2
0.3
23.0
2018-19
SAN
77
35
48.1
15.6
83.0
0.7
5.3
6.0
6.2
2.3
1.1
2.6
0.5
21.2
2019-20
SAN
68
34
53.1
25.7
84.5
0.7
4.9
5.5
5.6
2.7
1.0
2.4
0.3
22.1
2020-21
SAN
61
34
49.5
25.7
88.0
0.7
3.6
4.3
6.9
2.1
0.9
2.0
0.3
21.6
2021-22
CHI
52
36
51.2
34.0
86.1
0.9
4.4
5.2
5.1
2.2
0.9
2.3
0.3
27.5
Total
933
34
46.4
28.5
83.5
0.8
3.7
4.4
3.9
2.3
1.0
2.1
0.3
20.6