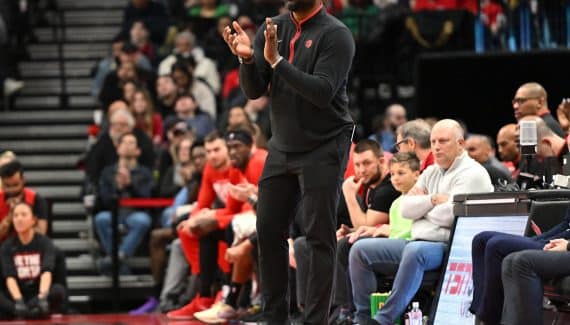 A month ago, Giannis Antetokounmpo made a media outing about his desire to win a new title and his ambition to stay with the Bucks as long as he considers the goal achievable. With just over a month to go until the regular season resumes, it's Adrian Griffin's turn to take a step in the direction of his superstar.
During a golf tournament organized to benefit the Milwaukee Bucks Foundation, Milwaukee's new strong man also revealed his ambitions, admitting to being on the same page as the "Greek Freak" in terms of his objectives.
"Giannis and I are on the same wavelength," he confided. "We have a very good relationship so far. He is nice to know. He wants to win and I want to win. It's that simple. I respect him. I respect what he has accomplished in this league. We are here together to win. This poses no problem for me. I think we make a great duo. We will guide the team together. When he leads the team, the others will follow. I think it's a good thing."
Giannis Antetokounmpo and Khris Middleton expected to return
The Bucks might not have survived the humiliation of their ouster in the first round of the playoffs after finishing in first place in the regular season in the East. Unlike Mike Budenholzer, who landed, the hard core formed around Giannis Antetokounmpo held on, and players at the end of their contract like Khris Middleton and Brook Lopez finally made their return. Like the "Greek Freak", who had to withdraw from the World Cup, Khris Middleton had to treat a convalescing knee during the offseason.
What cause concern? Not for Adrian Griffin, who believes that his two leaders will be back for training camp on October 3 and 100% ready.
"That's the plan. They worked like crazy in the gym every day and they are giving it their all. I think the most important thing is to take things day by day. That's what they're doing and it's been great so far."said Adrian Griffin.
It is ultimately on him that the pressure should concentrate if Milwaukee does not manage to dominate in the East as in recent seasons. Not enough to impress him, however, especially given the quality of his roster, notably reinforced by the arrivals of Robin Lopez and Malik Beasley.
"We are here to win. The only thing I've talked to my team and our staff about is accepting expectations. We have a very good squad. Instead of running away from them, we want to accept all of this"he concluded.
Shots
Rebounds
Players
MJ
Min
Shots
3pts
L.F.
Off
Def
Early
Pd
Bp
Int
Ct
Party
Pts
Giannis Antetokounmpo
63
32.1
55.3
27.5
64.5
2.2
9.6
11.8
5.7
3.9
0.8
0.8
3.1
31.1
Jrue Holiday
67
32.6
47.9
38.4
85.9
1.2
3.9
5.1
7.4
2.9
1.2
0.4
1.7
19.3
Brook Lopez
78
30.4
53.1
37.4
78.4
2.0
4.7
6.7
1.3
1.4
0.5
2.5
2.6
15.9
Khris Middleton
33
24.3
43.6
31.5
90.2
0.8
3.4
4.2
4.9
2.2
0.7
0.2
2.1
15.1
Bobby Portis
70
26.0
49.6
37.0
76.8
2.2
7.4
9.6
1.5
1.2
0.4
0.2
1.6
14.1
Grayson Allen
72
27.4
44.0
39.9
90.5
0.8
2.4
3.3
2.3
1.0
0.9
0.2
1.6
10.4
Jevon Carter
81
22.4
42.3
42.1
81.6
0.4
2.1
2.5
2.4
1.0
0.8
0.4
2.0
8.0
Pat Connaughton
61
23.7
39.2
33.9
65.9
0.8
3.8
4.6
1.3
0.5
0.6
0.2
1.1
7.6
Lindell Wigginton
7
12.4
48.6
33.3
88.9
0.0
1.0
1.0
2.0
1.7
0.0
0.3
1.0
7.1
Joe Ingles
46
22.7
43.5
40.9
85.7
0.3
2.5
2.8
3.3
1.2
0.7
0.1
1.6
6.9
Jae Crowder
18
18.9
47.9
43.6
83.3
0.9
2.9
3.8
1.5
0.4
0.7
0.3
1.5
6.9
Jordan Nwora
38
15.7
38.6
39.2
86.0
0.8
2.3
3.1
1.0
0.9
0.3
0.2
0.9
6.0
Goran Dragic
7
11.8
38.9
41.2
100.0
0.4
1.3
1.7
1.7
1.0
0.3
0.0
0.3
5.6
Marjon Beauchamp
52
13.5
39.5
33.1
73.0
0.7
1.5
2.2
0.7
0.9
0.4
0.1
1.4
5.1
George Hill
35
19.1
44.7
31.1
73.9
0.4
1.5
1.9
2.5
0.8
0.5
0.1
1.2
5.0
Meyers Leonard
9
12.6
48.3
38.9
88.9
1.3
2.4
3.8
0.1
0.7
0.2
0.0
1.8
4.8
Aj Green
35
9.9
42.4
41.9
100.0
0.2
1.1
1.3
0.6
0.3
0.2
0.0
0.9
4.4
Serge Ibaka
16
11.6
48.1
33.3
61.5
0.9
1.8
2.8
0.3
0.7
0.1
0.4
1.4
4.1
Wesley Matthews
52
15.8
36.3
31.5
85.7
0.7
1.5
2.2
0.7
0.3
0.4
0.3
1.4
3.4
Sandro Mamukelashvili
24
9.1
32.8
21.9
66.7
0.8
1.6
2.3
0.7
0.4
0.2
0.2
0.8
2.4
Thanasis Antetokounmpo
37
5.6
43.5
0.0
50.0
0.4
0.8
1.2
0.4
0.3
0.1
0.1
0.6
1.4