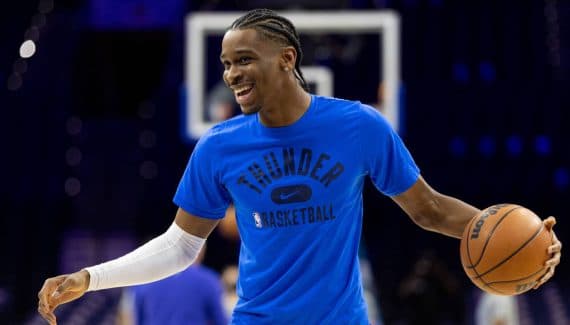 The end of the "All-Star break" is synonymous with a return to competition for the various franchises in the league, but also for certain players who have been injured for a long time.
This is for example the case of Shai Gilgeous-Alexander, on the Oklahoma City side. Away from the courts since the end of January, due to a sprained right ankle, "SGA" will actually play again this Thursday evening, against Phoenix, after having missed the last ten games of his team (for four wins and six losses ).
" Shai Gilgeous-Alexander returns to a team that played well in his absence and I think he knows that", said his coach about itMark Daigneault, in reference to the good individual performances of Josh Giddey, Tre Mann, Théo Maledon, Luguentz Dort, Darius Bazley or Aleksej Pokusevski.
But this return is bound to be good news for the competitiveness of the Thunder, which has lost six of its last seven games played before the All-Star Weekend break.
Because the Canadian rear is none other than the best element of OKC, as evidenced by his 22.7 points, 4.7 rebounds, 5.5 assists and 1.1 interceptions on average (at 42% in shots, 28% in 3-pts and 81% to throws).
A freewheeling end to the season
Even if Shai Gilgeous-Alexander, follower of the game in isolation, will have to deal with the emergence of Josh Giddey, leader of the Oklahoma collective in his absence.
" If you want to be a very good team, you need to have talented and high level players "recalled Mark Daigneault. " No one knows that better than Shai [Gilgeous-Alexander]. He wants to win, he wants to be part of a great team and he's ready to roll up his sleeves to help us build that."
Currently 14th in the Western Conference, with 18 wins and 40 losses, the Thunder currently have the fourth worst record in the league. Still engaged in a process of reconstruction, it will thus be interesting to observe if the franchise decides, despite its declarations and as at the end of last season, to let go of its end of the campaign, to better maximize its chances of obtaining a Draft choice. high, on June 23rd…
Shai Gilgeous-Alexander
Percentage
Bounces
Season
Team
GM
Minimum
Shots
3 points
LF
Off
Def
Early
pd
party
Int
bp
CT
Points
2018-19
LAKE
82
27
47.6
36.7
80.0
0.7
2.1
2.8
3.3
2.1
1.2
1.7
0.6
10.8
2019-20
OKAY
70
35
47.1
34.7
80.7
0.7
5.2
5.9
3.3
1.7
1.1
1.9
0.7
19.0
2020-21
OKAY
35
34
50.8
41.8
80.8
0.5
4.2
4.7
5.9
2.0
0.8
3.0
0.7
23.7
2021-22
OKAY
43
35
42.4
27.8
81.1
0.7
4.0
4.7
5.5
2.3
1.1
2.4
0.8
22.7
Total
230
32
46.7
34.5
80.7
0.7
3.7
4.4
4.1
2.0
1.1
2.1
0.7
17.5