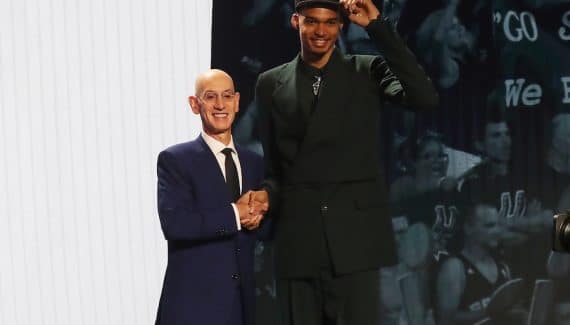 Adam Silver rarely spoke about Victor Wembanyama so far. But like the whole basketball world, the big boss of the league observes with attention and curiosity the French nugget of Spurs. And not just in terms of the game alone.
" I had the opportunity to spend time with him in New York at the time of the Draft. I also met him when we played that regular season game in Paris in January (Editor's note: Bulls – Pistons where the French giant did not go unnoticed). My first reaction is that he is an incredible young man. begins by qualifying the "commissioner".
" I don't even want to talk about a young man, because he seems like an incredible person. He is ahead of his age in terms of maturity, he is open to the world, cultured, thoughtful and he has the potential to do extraordinary things in this league. ", continues the leader, who is not the first to have been won over by the personality of the Frenchman.
Adam Silver, who also appreciates his handling of the hype, with an upcoming break, as well as his ease in bouncing back after a missed first outing with Spurs in the Summer League, had already made similar comments last October, nine months before their handful. hand, when selecting the Frenchman in first place in the Draft.
" I could jinx a player by naming him the next big thing. He certainly has all the attributes to change the game, physique and mindset to be a great player. He responded present on this big stage ", then listed the leader after the American passage of the Metropolitans 92 against the G-League Ignite of Scoot Henderson.