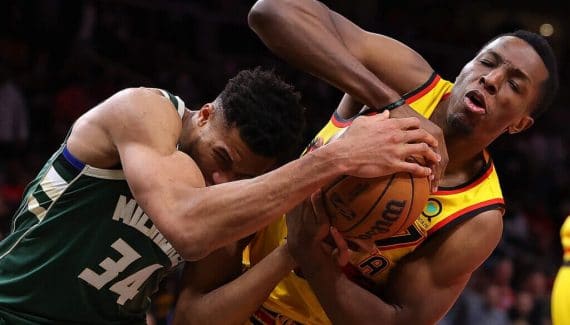 The misfortunes of some are the happiness of others, and while Clint Capela is in the infirmary, Onyeka Okongwu takes the opportunity to show his potential. After an already very complicated rookie season, the young interior of the Hawks has only played 12 games this season due to a serious shoulder injury. Suffice to say that he is still in the learning phase, but the boy learns quickly, and recently, we saw him stand up to Joel Embiid then Giannis Antetokounmpo.
Last night, it was Karl-Anthony Towns who foiled, finishing 6 out of 13 on shots, but above all with six fouls. Onyeka Okongwu notably covered him up, as he had countered Giannis two days earlier, and KAT will even take a technique for having chambered the Hawks pivot after a basket at the buzzer in the 3rd quarter.
Each time, Onyeka Okongwu gives them back several centimeters and a few kilos, but his activity and hardness more than compensate.
"I don't know why everyone says I'm small" is he laughing. "I must be at 2m04, even 2m05. Maybe 2m07 on a good day, and 2m09 with the shoes on. And I play with the shoes, don't I? I don't see why they say I lack size. I find that 2m07 for an interior is solid. And of course, it does the job. So no matter the size, what matters is what we do on the pitch. I'm athletic enough, I have enough stature and I think I have everything that can't be measured. I pay no attention to it. I do what I have to do. "
"I have six fouls to give, and I will clearly use them"
Physically, the former USC center is reminiscent of Kevon Looney. He is very lively, his hands are active, and he is always close to his opponent. He's not the type to give his striker a yardstick, and he prefers to hustle and make his presence felt.
"I will always be physical. I will always be physical, aggressive, and I will make mistakes if necessary. he continues. "I don't back down from anyone. It's always like that, and it always will be. That's the type of player I am. "
As he has only played 12 games, he does not yet appear in the various statistical rankings, but he is the most skilled player in the NBA with 76% in shots, and he is one of the interiors the most more profitable with 9.8 pts, 6.3 rbds and 1.8 ct average in 25 minutes. Beware of faults all the same since he is approaching 4 per game.
"I have six to give away, and I will definitely use them" he warns. "Sometimes I have to save some for later, but I've never been out for six fouls. Never. So I know how to handle mistakes. I've always played like that, and I'm not afraid to take a foul for the team. I'm not afraid to foul anyone. "
Trae Young: "He's like me: we're small but smart"
Against Milwaukee, he had disrupted Giannis in the "money time", crushing him on a shot to recover and win an in-between, then making a mistake on a Eurostep. While the Hawks have suffered on defense since the start of the season, Nate McMillan may have found the ideal player to take care of the best opposing interior.
"He's really tough and he understands spin and angles. He does a good job of getting the upper hand, getting close to the players so they can't push him back. He doesn't have the size or the stature, but is aware of the forces and he does a good job of getting between his player and the basket. We saw him being able to defend on Giannis and a guy like Embiid. "
For the Hawks coach, the talent of his young interior goes beyond the defensive frame.
" I think he has a great game intelligence. He feels the game well on both sides of the field. It's not just in defense that he does good things, and when Trae Young is double-crossed, he gets the ball back and makes the right reads. He shows that he is progressing and he continues to do so, with each outing."
Same talk at Trae Young who found a new pick-and-roll partner on offense. " In many areas, he is like me: we are small but smart. He is short for his position, and he lacks centimeters, but he is very intelligent. He understands angles. He knows the guys, when they go to dunk, when they take the ball out, when he has to go ask for the ball… He's just a very smart player, and he's going to get better year by year, but for the moment, he is a very cerebral player".
Onyeka Okongwu
Percentage
Bounces
Season
Team
GM
Minimum
Shots
3 points
LF
Off
Def
Early
pd
party
Int
bp
CT
Points
2020-21
ATL
50
12
64.4
0.0
63.2
1.2
2.0
3.3
0.4
2.0
0.5
0.6
0.7
4.6
2021-22
ATL
11
24
78.2
0.0
65.2
2.4
3.9
6.3
1.2
3.8
0.7
1.3
1.6
9.2
Total
61
14
68.1
0.0
63.7
1.4
2.4
3.8
0.5
2.3
0.5
0.7
0.8
5.4