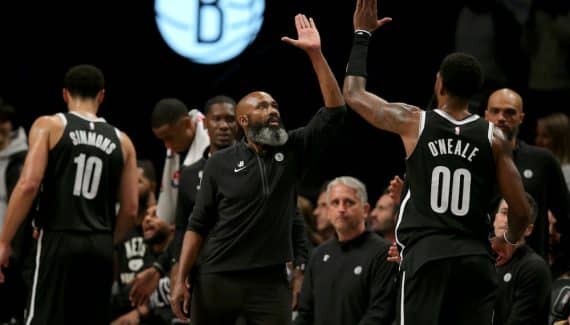 Formalized in his new position as head coach, and not just interim, just before the New York derby against the Knicks, Jacque Vaughn received the best possible response from his players on the field.
Ready to do battle from the in-between, the Nets took the lead in the first quarter (38-22) en route to a triumphant victory against the New York rival (112-85).
"I think we started this match with the right state of mind," enjoyed Vaughn on ESPN. "The starters have established our will to play well. We defended on all pitches, we really wanted to put our mark on the game and the guys who came off the bench continued to have the same impact. Kevin set the tone from the start with his ability to be a real pillar for us, to get rebounds and finish in triple doubles. »*
"I can't wait to play for him"
Effectively author of a triple double with 29 points, 12 rebounds and 12 assists (for a huge 44 evaluation), Kevin Durant perfectly led his team to success. The superstar winger even seems very satisfied to be able to turn the Nash page definitively and fully embark on this new chapter under the leadership of Coach Vaughn, more than deserving.
" I'm happy for him. I know how much he gives his all on a daily basis.notes Kevin Durant. "I know how involved he is in the development of each player and in the team as a whole. I can't wait to play for him. All the guys have responded well to the way he wants us to play. I can't wait to see how we will progress after this. »
Before coaching, and assisting with the Nets for the past eight years, Vaughn was a journeyman leader who rolled around well, receiving recognition during his time in San Antonio, with an NBA title gleaned in 2007.
"We don't want it to be just for a honeymoon"
" I'm happy for him. He's a really good guy."confirms Edmond Sumner. "I was happy to learn [qu'il était nommé head coach]. Now we are ready to work hard for him. »
Already head coach in the NBA, with the Orlando Magic between 2012 and 2015, Vaughn had not really worked miracles with three seasons ended with less than 20 wins on average. But this time he has a sufficiently rich workforce to aim high in Brooklyn.
"We were in great difficulty, we went through a lot of hardships. But the guys have pride, individually, and we just wanted to play better than [ce qu'on a fait depuis le début de saison] », Durant concludes. "That's what we managed to do. But we don't want it to be just for a honeymoon, we want to keep pushing and keep finding ways to improve, to turn our weaknesses into strengths and move on from there. »
Shots
Bounces
Players
GM
Minimum
Shots
3 points
LF
Off
Def
Early
pd
bp
Int
CT
party
Points
Kevin Durant
11
37.4
51.8
33.3
93.0
0.5
5.5
6.0
4.7
3.5
0.9
1.9
2.5
31.0
Kyrie Irving
8
38.7
45.3
28.0
92.7
0.8
4.4
5.1
5.1
2.4
1.4
1.1
3.0
26.9
Nicholas Claxton
11
28.8
71.8
0.0
42.9
3.3
6.0
9.3
1.2
1.6
0.9
2.3
2.8
12.2
Royce O'Neale
11
36.6
39.8
41.8
75.0
1.0
3.2
4.2
4.1
1.1
1.3
0.8
3.5
10.9
cam thomas
6
17.5
41.5
45.5
87.0
0.2
1.3
1.5
2.2
0.3
0.7
0.2
1.0
9.8
Joe Harris
9
24.8
41.3
32.6
33.3
1.1
2.4
3.6
2.2
0.3
0.6
0.3
2.3
7.4
Patty Mills
11
13.3
45.7
43.2
100.0
0.2
0.5
0.7
0.8
0.3
0.2
0.1
0.6
6.2
Edmond Sumner
9
15.6
37.2
20.0
100.0
0.2
1.4
1.7
1.3
1.2
0.7
0.3
1.2
5.8
Yuta Watanabe
10
16.0
59.5
54.5
0.0
0.5
1.9
2.4
0.5
0.3
0.3
0.6
1.0
5.6
Ben Simmons
7
29.6
43.2
0.0
46.7
1.0
5.0
6.0
6.6
2.6
1.1
0.6
4.1
5.6
David Duke
5
12.1
47.6
0.0
100.0
0.4
1.2
1.6
0.8
1.0
0.6
0.0
2.4
4.6
Day'ron Sharpe
7
11.3
42.1
0.0
50.0
1.3
2.3
3.6
0.7
0.9
0.4
0.7
2.9
2.9
Markieff Morris
6
8.6
31.3
41.7
0.0
0.2
1.8
2.0
0.7
0.7
0.3
0.2
1.3
2.5
Seth Curry
3
15.1
8.3
12.5
100.0
0.0
0.7
0.7
2.0
0.3
0.7
0.3
1.7
1.3
Kessler Edwards
3
1.9
33.3
50.0
0.0
0.0
0.7
0.7
0.7
0.0
0.3
0.0
0.0
1.0