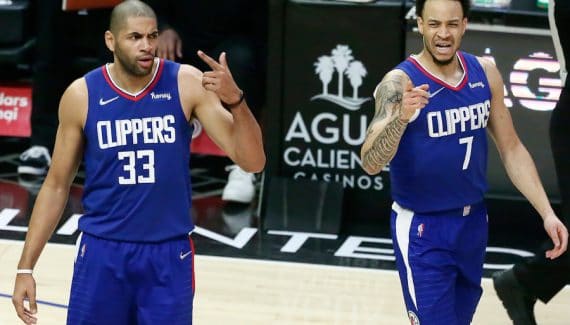 If the Clippers drew five days before the "trade deadline" by setting up a trade with the Blazers, it may not be for nothing. California franchise president Lawrence Frank has confirmed that "Building the Workforce" was " ongoing " after the trade involving the arrivals of Norman Powell and Robert Covington.
After sending Eric Bledsoe to Portland, Tyronn Lue's squad now lacks a point guard off the bench, a role that will be filled by Terance Mann until further notice, as the coach has indicated.
Lawrence Frank for his part gave details on the profile of the player sought, namely a leader who does not need to have the ball much in hand, a task supposed mainly to return to Kawhi Leonard and Paul George, even if they are currently still injured.
"Instead of saying playmaker, I really look in terms of 'player who starts actions', who finishes them, and what you might call 'connectors'. Look, our top two players have the ball 60% of the time. And the position of playmaker is different today than it was twenty years ago., he explained. "I don't even call it a playmaker anymore. It's more like, 'OK, can we find a guy who has that set of qualities and can take some pressure off Kawhi and Paul?' And guess what, this player could very well be an outside. He doesn't have to be a playmaker per se.
Serge Ibaka and Marcus Morris on the start?
If Robert Covington's contract expires at the end of the season, Norman Powell arrives for his part with a big contract of 90 million dollars over five years signed last summer, and forced Steve Ballmer to add a check of 20 million dollars in the "luxury tax". A reinforcement which therefore required a major financial effort.
"We never thought it was realistic for us to get a player like Norman Powell, for a team that won't have salary leeway for a long time. It's really difficult to get players like Norman, with such a long-term contract, who are in their prime.", continued Lawrence Frank who also praised the "all in" of its owner to validate the transfer.
Even if Lawrence Frank learned during his career that a team never had too many wingers, the arrivals of Robert Covington and Norman Powell however uNBAlance the whole a little. Among the players cited as possible starters, the names of Marcus Morris, who would still have a good side, and Serge Ibaka, whose contract expires at the end of the season, have been mentioned.
"We will continue to look for opportunities to improve the team. Whether it's Serge or other situations ", concluded Lawrence Frank, who therefore intends to remain aggressive in his decisions.
Shots
Bounces
Players
GM
Minimum
Shots
3 points
LF
Off
Def
Early
pd
bp
Int
CT
party
Points
Paul George
26
35.5
42.1
32.3
88.0
0.4
6.7
7.1
5.5
4.2
2.0
0.4
2.5
24.7
Reggie Jackson
50
30.7
39.6
32.9
85.4
0.5
3.0
3.4
4.1
2.1
0.7
0.1
2.0
16.7
Marcus Morris
29
30.2
42.6
37.8
83.5
0.6
4.6
5.1
2.2
1.3
0.5
0.3
2.3
15.8
Luke Kennard
44
28.5
43.9
43.4
88.2
0.2
3.4
3.6
2.2
0.8
0.6
0.1
1.6
12.1
Terance Mann
53
28.6
47.6
36.3
75.8
1.3
3.7
5.0
2.2
1.0
0.6
0.1
2.3
10.0
James Ennis
2
14.0
63.6
50.0
100.0
1.0
1.5
2.5
0.0
0.5
0.5
0.5
2.0
10.0
Eric Bledsoe
54
25.2
42.1
31.3
76.1
0.5
2.9
3.4
4.2
2.1
1.3
0.4
1.6
9.9
Ivica Zubac
48
24.3
65.2
0.0
73.5
2.6
5.4
8.0
1.3
1.4
0.5
1.0
2.5
9.6
Nicholas Batum
33
25.2
49.1
41.4
66.7
0.5
4.0
4.5
1.6
0.8
1.0
0.8
1.4
9.1
Amir Coffey
41
22.0
46.3
39.3
88.7
0.5
2.7
3.1
1.7
0.4
0.5
0.2
1.3
8.4
Isaiah Hartenstein
40
16.0
63.0
50.0
66.2
1.6
2.7
4.3
1.8
1.1
0.7
1.1
2.6
7.5
Bj Boston, Jr.
37
15.9
36.3
29.9
85.5
0.4
2.1
2.5
0.9
0.7
0.5
0.2
0.9
6.8
Serge Ibaka
34
15.3
48.7
37.7
69.0
1.1
3.1
4.2
1.0
1.0
0.2
0.7
1.6
6.6
Xavier Moon
6
13.9
41.2
30.0
66.7
0.2
1.3
1.5
1.7
0.5
0.8
0.2
0.7
5.5
Justise Winslow
37
13.0
44.7
17.2
61.0
0.8
2.8
3.6
1.4
1.0
0.6
0.5
1.2
4.2
Keon Johnson
15
9.0
33.3
27.3
76.2
0.4
1.0
1.4
0.9
0.5
0.5
0.1
1.4
3.5
Jayden Scrubb
18
6.7
39.1
28.6
70.0
0.1
0.8
0.9
0.4
0.4
0.2
0.2
0.5
2.7
Wenyen Gabriel
6
7.7
38.5
40.0
50.0
0.8
1.5
2.3
0.3
0.5
0.2
0.3
1.8
2.3
Moses Wright
1
1.5
0.0
0.0
0.0
0.0
0.0
0.0
1.0
0.0
0.0
0.0
0.0
0.0