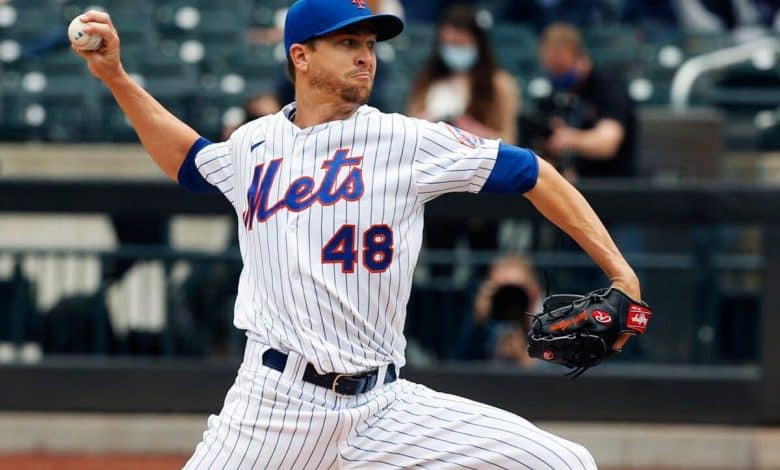 When a player is free as the air, other teams have the right to ask to see his medical records to see if it makes sense to woo him.
In the case of Jacob deGrom, this is the most important. After all, we know he's going to ask for the moon and we know that if he's healthy, he's going to give his next club his money's worth.
But for that, he must stay healthy.
And now the Yankees have asked to see the star pitcher's medical file in order to assess the possibility of signing him.
That said, if you want my opinion, I don't see the pitcher signing with the Yankees. I believe if he stays in New York, it will be with the Mets.
I don't see the Mets putting less money on the table than the Yankees either. And under those conditions, deGoat could stay with the Mets.
I believe that if Aaron Judge remains in New York, deGrom will not be courted. And if he leaves, the Yankees will put their money elsewhere.
I don't see the Yankees playing into the Mets' toes on big issues like that…and vice versa.
I also don't think the Yankees are desperate enough to give so much money to deGrom, who would have received attention from the Braves and Rangers.
In my opinion, it's going to be played out between the Mets and the Texas Rangers.
It is said that another Major League Baseball team would be interested in the pitcher, but would not necessarily have to sign him.
I think we're talking about the Dodgers.
But OK. Whether the Mets sign deGrom or not, it will take reinforcements on the mound and all available pitchers will be tied to the Mets. Jameson Taillon is also quoted in the file.
Eye for eye, tooth for tooth?
Note that a guy like Kodai Senga, also linked to the Red Sox and the Yankees, could very well be a target for the Mets this winter.
Every good pitcher is a target, in fact.