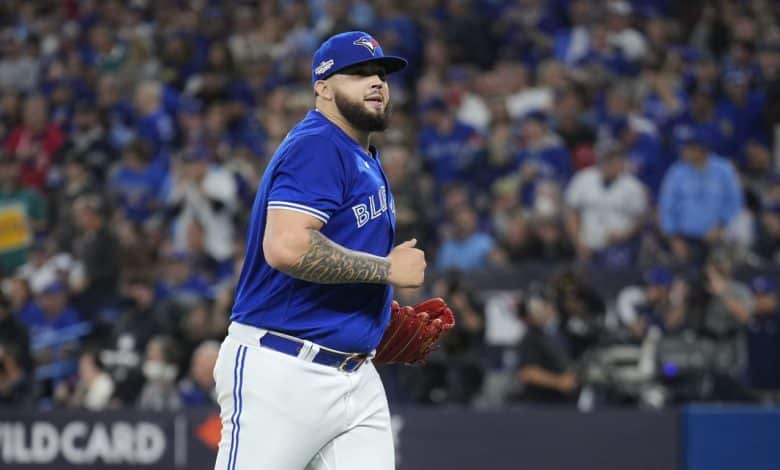 Those who have seen Alek Manoah know that he is not the smallest pitcher. He has an imposing frame for a ball player.
But clearly, when you look at the way he has thrown since the start of his career, it is difficult to contradict the recipe since it works.
But not everyone sees it that way.
Anthony Recker, an MLB Network analyst who once played in MLB, took the liberty of criticizing Manoah's work ethic on air.
Alek, I love you, but show me that you want to put in more time in the gym and that you're going to be there consistently for a while longer.

I love you anyway.

– Anthony Recker
Admittedly, it's a 10-second segment that has been isolated and cut out on Twitter, but still: it clearly says what it has to say.
And Manoah responded violently on Twitter.
First, Manoah mentioned that his job is not to please Recker and that he doesn't know his work ethic.
He added that "what he does in the gym works when you look at his numbers" before adding that it clearly wasn't the case for him (Recker) when he was a catcher.
Recker responded to not let an out-of-context segment get him upset by reminding him that he had an out-of-the-ordinary talent and wanted the Jays pitcher to be able to maximize it.
He added that he would have liked to have had a fraction of his talent.
But Manoah added to it by saying that he was like the others since he only apologizes when he is exposed publicly.
He also added that if he wanted to see what training was like for an All-Star Gamer, MLB First Team All-Star and a Cy Young runner-up, he just had to come see him.
Manoah, a regular at responses on social networks, has never had his tongue in his pocket. I don't know if it will catch up with him or if he will one day have to learn to better channel his energies.
John Schneider is good at helping him with that.
Basically, Manoah is right: it was cheap as a comment and it was really not right to attack him on his weight like that. Manoah also released good liners in his tweets.
Comments like that are (unfortunately) part of the game for a Major League guy and I'm not going to blame him for defending himself on that one.

Two former Blue Jays find jobs.
Luis Arraez won in arbitration against the Marlins.