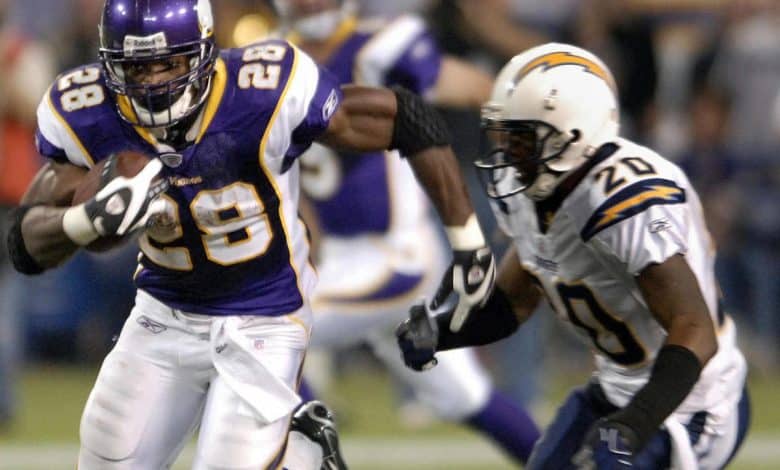 hot news
– Robert Saleh (Jets): "We are one of the 6 or 8 teams playing for the title"
[podcast]
Patriots sanctioned
Two less workouts. This is the sanction imposed on the Patriots. According to ESPN, the New England franchise has been sanctioned for an offseason rule violation. The nature of the offense is not yet known.
As a result, this Thursday's training, as well as one of those scheduled for next week, are cancelled.
Andy Reid upset
The NFL has changed the kickoff rule. From now on, a player asked for a fair catch, even inside his 25 yards, will allow his team to start from 25 yards. What further reduce the number of returns.
"Where does it end? No ? ", launched the coach to the press on Wednesday, according to Arrowheadpride.com. "We are starting to remove pieces from the game, we will see where it leads, but we must not remove too much. We're going to end up playing flag football. »
Adrian Peterson is not retired
Adrian Peterson (RB) hasn't played in 2022. But don't hesitate to give him a call if you're looking for a runner.
"Mentally, I haven't officially retired yet," the former MVP told the Fort Worth Star-Telegram. "My mindset is that, God permitting me, maybe an opportunity will arise, and maybe it will happen this season. But if nothing happens this season, for sure I will stop. »
Peterson is still 38 years old. In 2021, he played three games with the Titans and one with the Seahawks, for 98 yards and 2 touchdowns on 38 carries.
Lamar Jackson: "Less running, more passing"
Lamar Jackson (QB, Ravens) was all over the Baltimore offense in recent years. But with the arrival of new targets and offensive coordinator Todd Monken, things could change. Anyway, that's what number 8 is waiting for.
"Less running and more passing," Jackson told ESPN on Wednesday, when asked what he hopes to show with his new offense.
The former MVP has never rushed for less than 695 yards in a season. Last year, he was already 764 yards in just 12 games.
injuries
– Ron Rivera announced that Armani Rogers (TE, Commanders) injured his achilles tendon during voluntary training. Nicki Jhabvla adds that the player did not suffer any contact. According to Ian Rapoport, an MRI confirmed a ruptured Achilles tendon that requires surgery. Rogers caught 5 passes for 64 yards last season.
– Za'Darius Smith (DE, Browns) reported that his knee is fine. During the 2022 season, the pass rusher had 9.5 sacks in nine games before being slowed down (half a sack in the last eight games) by recurring knee problems. (Cleveland.com)
– Rashod Bateman (WR, Ravens) and Devin Duvernay (WR) are better. Both men had ended their season with a foot injury. This week they made their return to training, in a limited way. (official site)
Transactions and rumors
– Davis Mills (QB, Texans) is not for trading. According to Click2Houston, teams would be interested in Mills, but Houston would not want to part with him. Despite the selection of CJ Stroud with the second choice of the last draft and the signing of veteran Case Keenum, the former Stanford player remains hopeful: " I'm fighting for the starting position", he assures.
– The Jets tested Matt Araiza (P) on Wednesday. Drafted in the sixth round by the Bills in 2022, the player was quickly cut by the team after accusations of gang rape against him. (ESPN)
The main signings of the day: Angelo Blackson (Ravens, DT), Kaden Smith (TE, Colts), Markus Golden (Steelers, OLB)
In short
– He hasn't played in the NFL since 2018, but Jeremy Hill (RB) had yet to announce his retirement. It's been done since Wednesday. On Instagram, the runner selected in the second round by the Bengals in 2014 announced that he is ending his career due to injuries suffered on the field. In particular, he tore the anterior cruciate ligament in his knee at the start of the 2018 season. He had the right to a trial with the Raiders in 2020, but was cut without playing a single game.
– The US Patent and Trademark Office has rejected the Washington franchise's trademark application for the Commanders name. One of the reasons ? The name already refers to a college football match between the Army and the Air Force. Commanders might try to come to an agreement to keep their name. (ProFootballTalk)
– Keith Smith (FB, Falcons) was arrested for a traffic violation. The exact nature of the facts is not yet known, but the Falcons have confirmed that they are aware of the case. (FOX5)
Aaron Jones is ambitious
In March, Matt LaFleur (HC, Packers) called for restraint with new quarterback Jordan Love in his first season as Aaron Rodgers' successor. Aaron Jones does not seem to share the same opinion.
"We have everything we need here. If you think we're rebuilding, you're in the wrong team and location," he told Zack Kruse for USAToday.com. "We know we'll all have to give it our all and that we'll have to rely on each other in all facets of the game but we're hungry and ready to prove our critics wrong. We know what is being said. Everyone has their own opinion and most of them are worth nothing. »
David Montgomery feels good in Detroit
The least we can say is that David Montgomery did not see things on the bright side in Chicago. The solution ? Sign with rival Michigan. Since then, the running back has been much better.
"The difficulty, I only knew that," he said in an interview for the Lions. "We had reached the point where it prevented me from having fun on the field because I am a competitor. I like competition. That's football. It's so refreshing to be somewhere where you appreciate that. »
Support DNA of Sports
Don't forget to follow us on social networks by clicking on the links: Twitch – Twitter – Instagram – Facebook – TikTok
You can support us directly on Tipeee.
Or by betting at Unibet.
Or by subscribing to NordVPN via this link