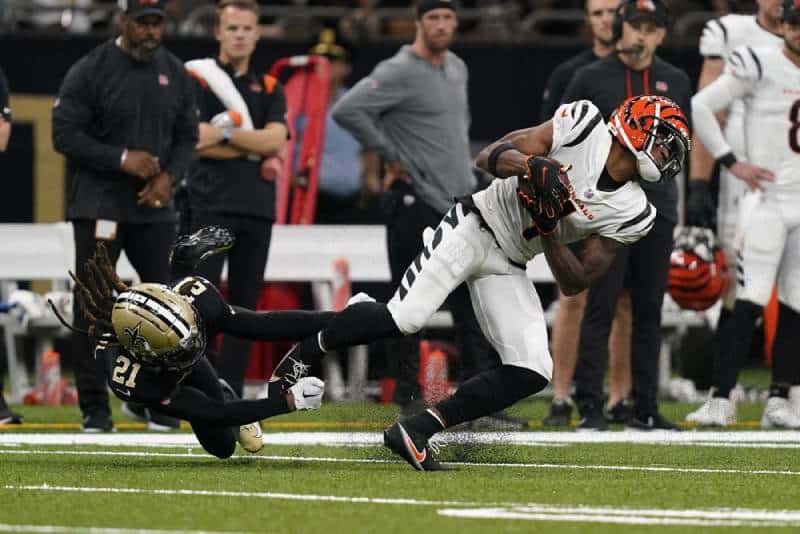 New Orleans Saints (2-4) – Cincinnati Bengals (3-3): 26-30
On the land of his university exploits, Ja'Marr Chase (7 rec, 132 yards, 2 TDs) broke a few hearts. 1 min 57 from the end, when his team had just recovered the ball, the receiver picked up the leather, put two defenders in the wind and spun 60 yards further towards the victory touchdown.
Often mistreated during this match, the defense finished the job in stride by putting Andy Dalton (17/32, 162 yards, 1 TD) and the Saints in check on the following series.
When the Saints are clean…
The Saints are the team that had lost the most ball in the first 5 weeks of the season. But when everyone applies (and Jameis Winston is not there), anything is possible. New Orleans starts its day with two touchdowns in four series to lead 14-7.
The match then takes a fairly clear turn: the Bengals' defense will bend but no longer break, while the attack will live off its brilliance.
Thanks to two field goals, the Saints lead 20-14 at the break, then 23-14 in the third. But they don't score touchdowns anymore!
So Ja'Marr Chase strikes for the first time to bring his team closer (21-23). New Orleans still responds to the foot (21-26), but without Michael Thomas, Jarvis Landry or Chris Olave, everything is getting harder and harder. Evan McPherson reduced the gap (24-26), before the Bengals defense quickly recovered the ball.
With 2 minutes to play, a field goal would be enough for the Bengals. But Chase didn't have time. In a single pass, Joe Burrow (28/37, 300 yards, 3 TDs) and him saved the furniture.
The Bengals remain a reactionary team, but they now have a positive record.