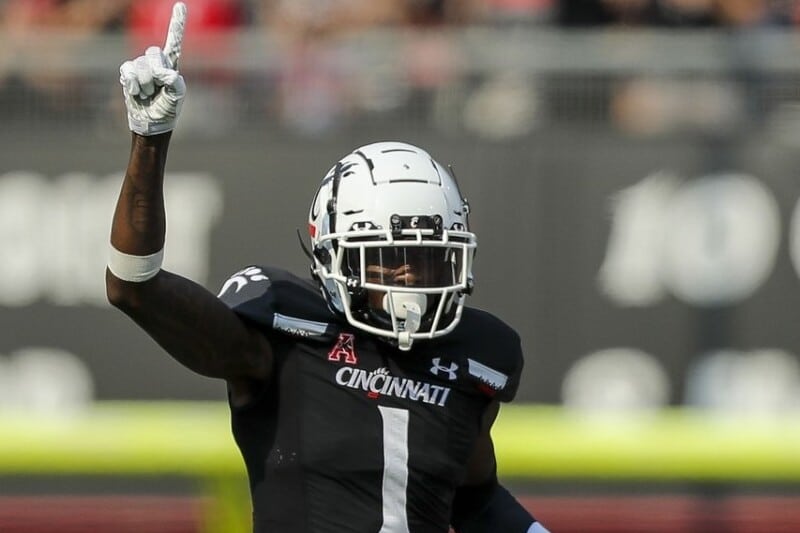 Ahmad Gardner – Cornerback – 21 – Junior – Cincinnati
Cut : 1m88
Weight : 85kg
Estimated draft position: Top 20
Stats 2021: 40 tackles including 5 for losses, 3 sacks, 3 interceptions, 4 passes defended
NFL Comparison: Xavien Howard
Strong points
– Athletic dimension
– Versatility
–Press
– Football IQ
The specialized site PFF compares Gardner to a Pterodactyl, and we must admit that the comparison makes sense. With impressive wingspan, Gardner is the kind of player who can pick up the ball and block it in many positions. This physical characteristic also makes him a more than honorable tackler.
Bearcat's particularity is that it is both versatile and specialist. Versatile, because he knew how to be effective in man to man as in zone, alternating his style of play according to the adversary. This versatility is possible, because Gardner has an extraordinary football IQ, one that allows him to anticipate each action before the others.
The specialty of "Sauce" is however clear: the "press". Positioning himself close to the receiver, he disturbs his vis-à-vis so much that the race is sometimes dead before it has started. Does he have the shoulders to succeed in this in the NFL? It is possible, just as he can become an area expert if asked to do so. Gardner is a flexible gem, and how he is coached will mean a lot to his career.
Aggressive (in the good sense of the word) and enduring, Gardner gives himself as much in the first quarter as in the fourth. It is a ball of energy that does not lose lucidity. Suffice to say, Gardner has the shoulders to hold from day one on all attempts.
Weak points
– Speed
– Game volume
If Gardner has the physical dimensions and the brains to dominate in the NFL, his main weakness is his speed. He's not slow, but like Xavien Howard he doesn't have the speed to catch up with his opponent if he's beaten. It doesn't happen often, but it's something to watch out for against "small" fast receivers.
There is one thing that Ahmad Gardner can't control, but which can affect his value. He has been relatively untargeted in his career. Blame it on unchallenged domination in his first freshman season. Paradoxically, this may put off some scouts who will consider that they have not seen enough.
The stat
0 career touchdowns against 9 interceptions
In 33 games and 138 passes thrown in his direction, Ahmad Gardner has never conceded a touchdown. If the opposing teams quickly tried to throw on the opposite side, Gardner was able to take advantage of rare opportunities to make 9 interceptions. And it's not just the American conference that suffered: 14 yards conceded against Alabama in the national semi-final, 9 yards against Notre Dame, Gardner was able to fight against the leaders of CFB.
Possible destinations
New York Jets, New York Giants, Seattle Seahawks, Minnesota Vikings, Philadelphia Eagles
Whatever team recruits him, Sauce Gardner is a day one starter. Versatile, he will adapt to any system. Seattle, which has just returned to the top 10, seems an ideal candidate in hopes of regaining a dominant cornerback, which the franchise has not had since Richard Sherman.
Will the Eagles go up to get Gardner? Not impossible, he is the kind of player who can make you want to "trade up" to get it. Seeing him out of the top 15 seems unlikely.