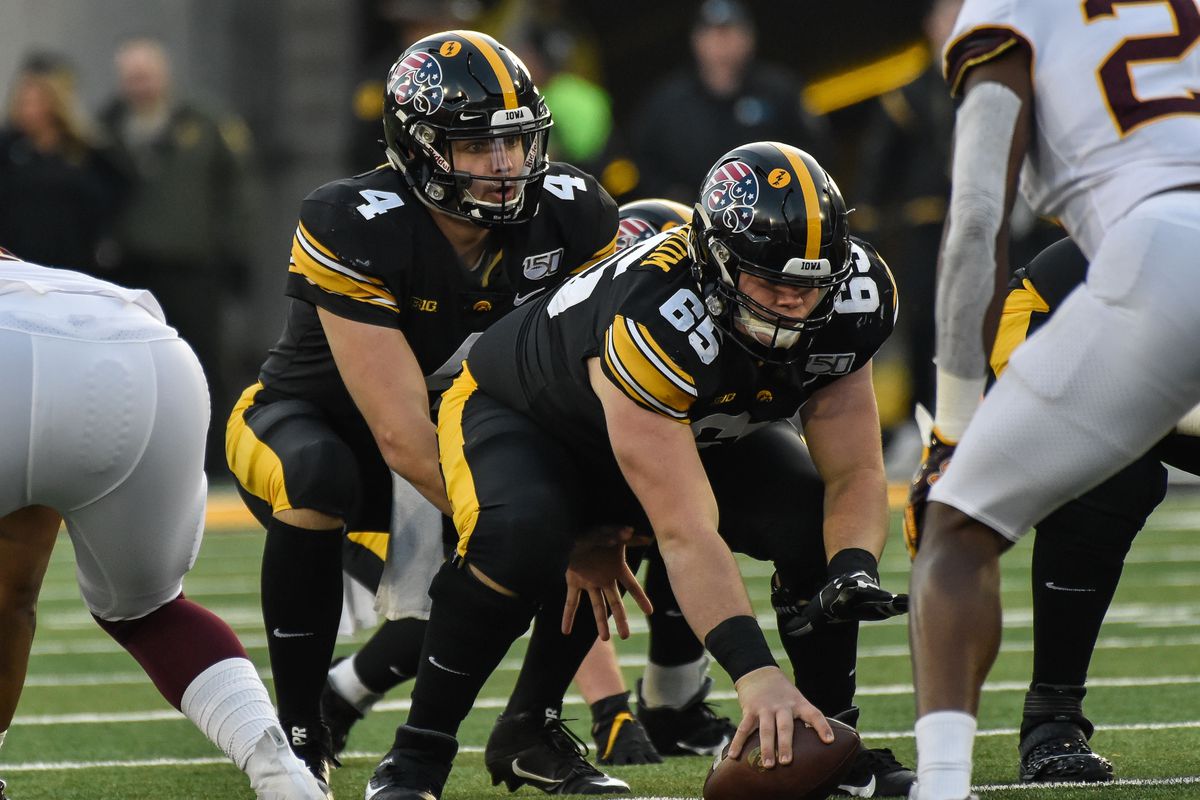 Tyler Linderbaum – Center – 22 – Junior – Iowa
Cut : 1m88
Weight : 122kg
Estimated draft position: Top 20
NFL Comparison: Jason Kelce
Strong points
– Athletic Ability
– Speed
– Versatility
– Stamina
– Balance
– Mobility
– Soccer IQ
– Technical
There are several forms of athletes, and Linderbaum is among the refined. Not a physical mountain, on the other hand he has an absolutely extraordinary mobility for a lineman. Capable of projecting himself to the second curtain in a flash, he offers multiple blocking possibilities and seems adaptable to most offensive schemes. If he evolves today in a university very focused on the race, his mobility can help on actions of pass-screen or play-action, without ruling out the idea that he can play in a more aerial attack.
Never lacking in energy, Linderbaum wins his duels against heavier and faster players by his explosiveness, his anticipation and his use of his body. A former wrestler, he seems to have kept this warrior instinct on a football pitch. He turns his lack of size into strength, using a low center of gravity and solid leg support to always stay in position.
Like a Creed Humphrey last year, Linderbaum wins with his head before winning with his body. With an impressive football IQ, he anticipates better than anyone and is already in a strong position when the duel begins. His positioning of the hands again recalls his past as a wrestler, always irreproachable. This technical maturity is hardly surprising when you know the success of the Iowa linemen in the NFL, the "Kirk Ferentz school" always managing to get the best out of its players.
Weak points
– Weight
– Power
As more and more versatile interiors emerge who can play center and guard, Linderbaum only has the physicality for the center position. It therefore requires a very specific need to select it, which may possibly limit its value.
Linked to his lack of physical size, Linderbaum is not a monster of power. He compensates with an enormous science of the game, but it is not impossible that he knows some difficulties in NFL dueling against physical monsters.
The stat
2 sacks in 1,201 passing snaps
For a center, consistency is key. While Linderbaum's specialty is the running game, he is no slouch in the passing game. In a very tough conference, he only collected 2 sacks (and 6 QB hits) in 1,201 snaps. Phenomenal. And as if that weren't enough, another stat shows his impeccable technique: 2 penalties taken out of a total of 2,317 snaps. Too strong.
Possible destinations
Philadelphia Eagles, Cleveland Browns, New York Giants, New York Jets, Pittsburgh Steelers
Very similar in style of play to Jason Kelce, he could well become his successor. The Eagles have three first-round picks and have the luxury of being able to sign a player who will be on the bench in Year 1. All teams that favor the run will look into the profile, and he could help runners looking for protection. like Najee Harris.