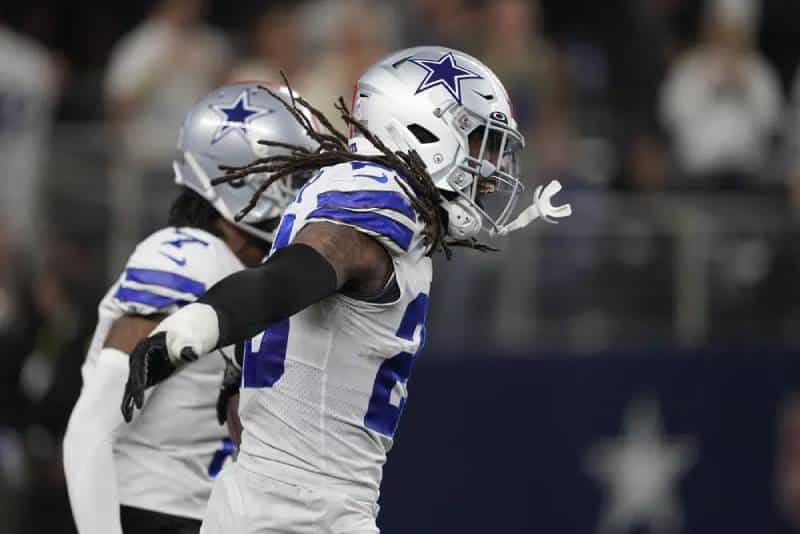 Dallas Cowboys (9-3) – Indianapolis Colts (4-8-1): 54-19
Indianapolis was down 21-19 when Alec Pierce scored a 15-yard touchdown 3:43 from the end of the third quarter. Jeff Saturday's team looked set to surprise. And then, nothing. An air pocket and 33 points in a row on the side of Dallas to end the game.
A touchdown from Michael Gallup (4 rec, 23 yards, 2 TDs) first (28-19). Then especially the takeover of the star defense. Malik Hooker (photo) is the first executioner of his former team by returning a fumble for a touchdown on the next kickoff (34-19). Then Matt Ryan (21/37, 233 yards, 2 TDs, 3 int) is intercepted, and Tony Pollard (12 races, 91 yards, 2 TDs) punishes him a few actions later with a touchdown (40-19). New interception from Matt Ryan, still by rookie DaRon Bland, and this time a touchdown from Ezekiel Elliott (17 races, 77 yards, 1 TD) in stride (47-19). It's a rout, Ryan loses a fumble, and Malik Davis continues with a new touchdown (54-19). Fifteen minutes in hell for the Colts. Once it was necessary to put more and more balls in the hands of Ryan, the fall, dizzying, only accelerated.
Malik Hooker's revenge
Before this cascade of points, the meeting had been rather balanced. Dallas scored the first touchdown of the game on a pass from Dak Prescott (20/30, 170 yards, 3 TDs, 1 int) for CeeDee Lamb (5 rec, 71 yards, 1 TD) (7-3), before a response immediately from the Colts through Ashton Dulin. Tony Pollard puts the Cowboys ahead in the second quarter (14-10). The runner is established in place of Elliott. Level issue? Jerry Jones assured the press after the match that Elliott, who came on during the second quarter, would have just been disciplined by his coaches for a disciplinary matter.
If Prescott launches an interception in turn, it only costs a field goal to his team (14-13). And Malik Hooker, whom Indianapolis had selected in the first round in 2017 but had not kept at the end of his rookie contract, takes a first small revenge. He intercepts Ryan and offers the ball to his attacking teammates just 26 yards from the opposing in-goal. Opportunity seized: Prescott found Michael Gallup for a 13-yard touchdown that put Dallas at ease before the break (21-13).
The Colts will therefore reduce the gap, before completely losing control in the last part of the match. With 220 cumulative yards on the ground and effective receivers, the Texas attack has succeeded in its job of sappe. The efficiency was also maximum in the red zone, with four touchdowns in as many passes in the 20 opposing yards.
The march to the playoffs continues for the Cowboys, while the Colts fall once again due to the multiplication of ball losses.