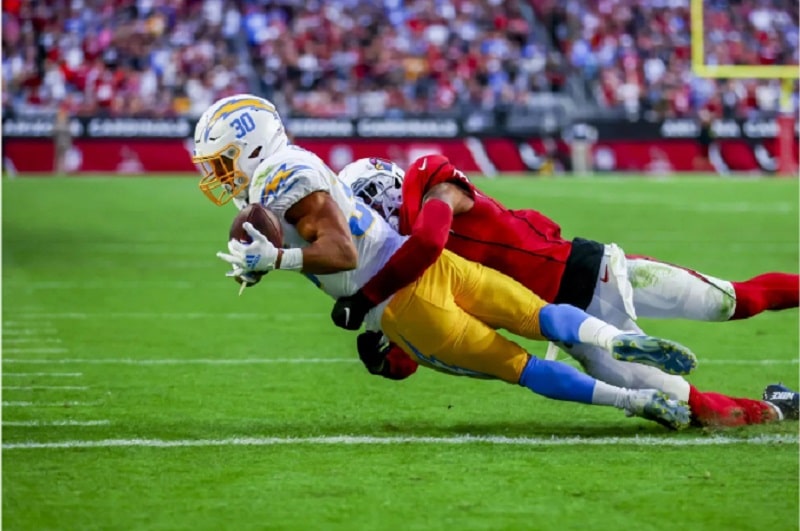 It's cruel to Arizona. The Chargers can say thank you to Justin Herbert and Brandon Staley.
Arizona Cardinals (4-8) – Los Angeles Chargers (6-5): 24-25
While the Cardinals had the game in hand, a ball returned by Arizona is well returned by DeAndre Carter for an offensive series of thirty yards. Series converted to touchdown by Austin Ekeler (5 races, 20 YDS, 11 REC, 60 YDS, 1 TD) on a pass from a Justin Herbert (35/47, 274 YDS, 3 TDs) who is then clutch by converting him to 2 points with an assist for his tight-end Gerald Everett.
In view of the match as a whole, it may look like a hold-up for Los Angeles as Arizona seemed to dominate on both sides of the field. But the small details made the difference like the special teams, and especially the audacity of the coaching of Brandon Staley.
It's Arizona's sixth home defeat and it's hard to see how Kliff Kingsbury's men could reach the playoffs. Los Angeles can still hope to hook them with a wildcard spot.
blow for blow
The 2 attacks start the match badly. After a sack from JJ Watt then a fumble from James Conner, it was the Cardinals' attack that opened the scoring. Kyler Murray (18/29, 191 YDS, 2 TDs, 1 INT) finds DeAndre Hopkins (4 REC, 87 YDS, 1 TD) before Matt Prater makes it worse on a field goal.
But, Los Angeles has the answer. Indeed, after a touchdown from Keenan Allen (5 REC, 49 YDS, 1 TD) on a pass from Justin Herbert, Derwin James took over DeAndre Hopkins and intercepted Kyler Murray. Interception enhanced by a touchdown at the reception of DeAndre Carter.
After this momentum taken over by Los Angeles, Arizona responds with a long offensive series of 14 games and 75 yards later, Kyler Murray uses his legs this time to allow his team to come back in front just before halftime in a first pleasant period. (17-14)
Los Angeles by all the emotions
The 2nd period will be much less exciting with 7 punts in all. It must be said that in their last 4 games, the Chargers have scored less than 10 points during the second half.
It will be hardly better on this match, since they only put 11 points. Arizona will do little better with 7 points on a touchdown pass from Kyler Murray for a very good James Conner (25 carries, 120 YDS, 3 REC, 20 YDS, 1 TD) at the start of the 4th quarter.
Afterwards, Arizona thought they had the game in hand with several defensive plays, including an authoritative sack from Isaiah Simmons. It was without counting on the clutch attitude of Justin Herbert.
Two points and the lead for the @Chargers!

📺: #LACvsAZ on CBS
📱: Stream on NFL+ https://t.co/zq8Igx8Ckq pic.twitter.com/6wCBSXmtq3

— NFL (@NFL) November 28, 2022