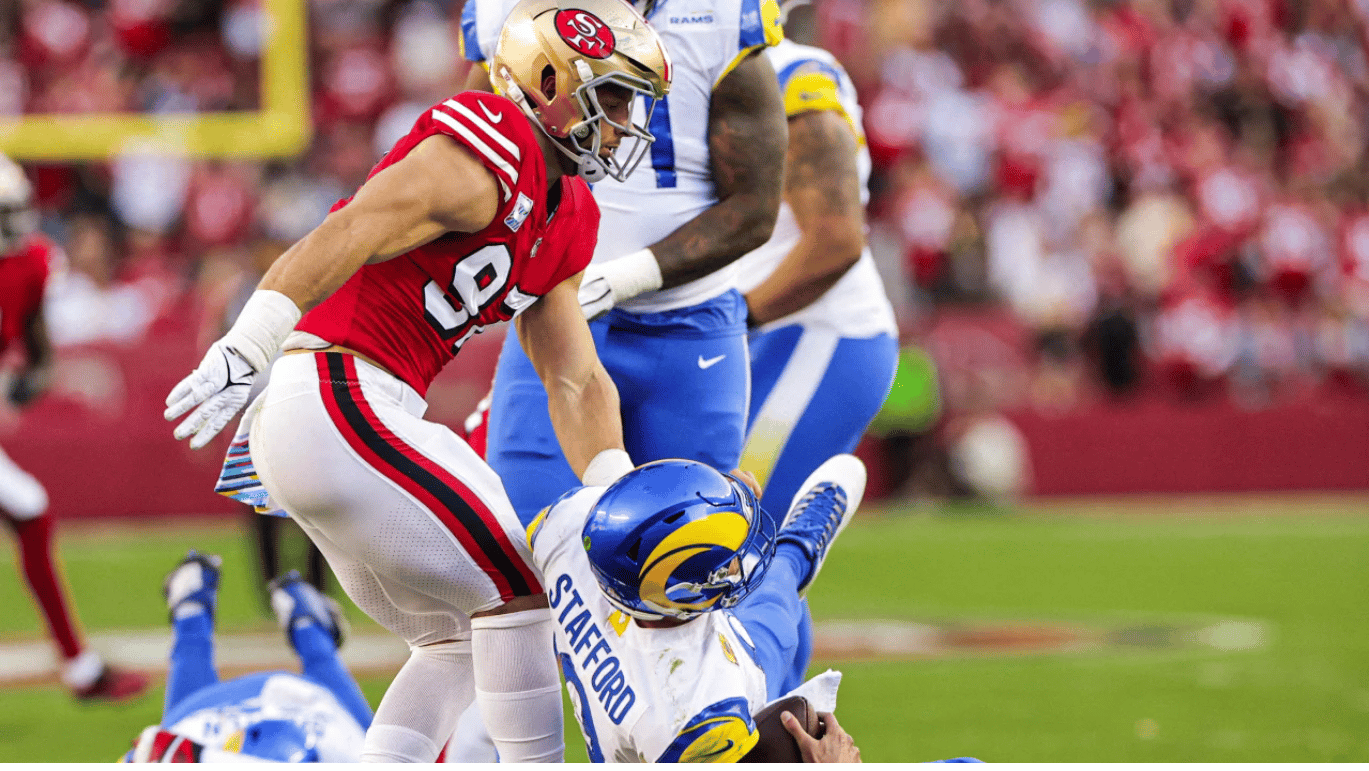 San Francisco 49ers (2-2) – Los Angeles Rams (2-2): 24-9
Match between two teams below expectations at the end of the fourth week of the season. On the one hand, the defending champions Rams, only 27th offense in the league, far from the standards of an attack under the orders of Sean McVay. On the other side of the Niners who have already missed two victories very well within their reach and have a negative balance sheet. In this fratricidal match between two head coaches from the same offensive philosophy inherited from Mike Shanahan, it was ultimately a rather defensive match that was played on Monday at Levi's Stadium. At this little game, few teams are better than San Francisco this season, and it's a logical victory for the Niners who suffocated Matthew Stafford.
Too one-dimensional Rams
Targeted 19 (!) Times, Cooper Kupp (14 receptions, 122 yards) is once again the only viable weapon for Los Angeles. If TE Tyler Higbee (10 receptions, 73 yards) has sometimes been a safety valve, it is too little diversified to exploit all the qualities of Matthew Stafford (32/48, 254 yards, 1 interception). Allen Robinson? Again absent subscribers: 2 receptions for 7 yards for the receiver, yet targeted 6 times.
Orphans of Andrew Whitworth and little spared by injuries, it is especially the offensive line that abdicated during this game. Unable to provide an alternation on the ground (57 yards running alone, Darrell Henderson best runner with 27 yards), the Rams' rampart looked more like Swiss cheese against a raging Red & Gold line (7 sacks including 1 sack-fumble, 11 QB hits, 1 interception) symbolized by a Nick Bosa of the great days: 2 sacks, 5 QB hits.
Too predictable attack: at the end of the match, safety Talanoa Hufanga, surprised at the start of the season on the Niners side, feels the umpteenth pass for Cooper Kupp coming. Pick Six which seals the fate of the match.
TZZ UP FOR BIG HUF

First-career pick 6 for @TalanoaHufanga!

📺 #LARvsSF we @ESPNNFL pic.twitter.com/GmfWfvTjq6

—San Francisco 49ers (@49ers) October 4, 2022
Dee-beast mode
With a record of 6 wins and no losses in the regular season against the Rams, Jimmy Garropolo therefore inflicts a seventh rout on his favorite victim. Unlike the previous week against Denver, the installation of an effective running game (18 carries, 74 yards and 1 TD for Jeff Wilson Jr) freed up spaces for Jimmy G (16/27, 239 yards, 1 TD). And with the phenomenon Deebo Samuel, a small space is already too much. On an innocuous reception, Samuel seems like a man against children and easily ridicules opposing defenders for a touchdown from 57 yards. A performance accomplished for the wideback, in its 2021 standards: 6 receptions, 115 yards, 1 TD.
DEEBO WAS RUNNINNNNN @19problemz

📺 #LARvsSF we @ESPNNFL pic.twitter.com/ca842lL7ZJ

—San Francisco 49ers (@49ers) October 4, 2022
With this very satisfying victory in terms of content, San Francisco goes from last to first place in the NFC West conference (on the back of their two intra-division wins), where all 4 teams now have a record of 2 wins and 2 losses. The pressure is easing a little on a Jimmy G singled out after his infamous performance at Mile High Stadium in Denver last week. Clean, he will not have been a thorn in the side of his team, and that is about all that is asked of him.
On the Los Angeles side, it's time to worry. Strong against the weak, weak against the strong, the losses against the Bills and the 49ers reveal certain weaknesses in the workforce which, if not resolved, will be crippling to seek the title again.