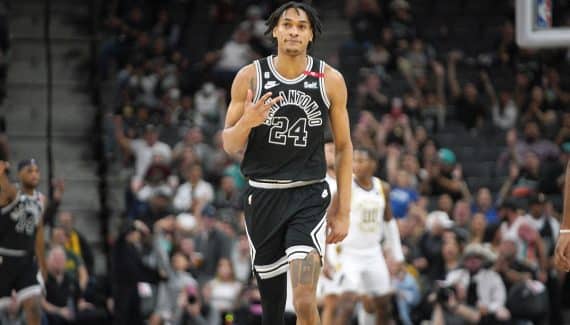 "I am a competitor. I'm never going to play a match without trying to win it." Is the lean period over in San Antonio? Since arriving in the NBA at the Spurs in 2020, Devin Vassell didn't rack up much success with the Spurs. His thirst for victories, however, remains intact and that's good, because the tide could start to turn with the arrival of Victor Wembanyama.
With "Wemby" as reinforcement, San Antonio will already be able to claim a little more success and start a new dynamic. Beyond the purely basketball aspect, the former Florida State resident also highlighted the media pressure which will completely change this season.
This will be an additional point, completely new for this group, which we will have to assimilate well.
"There's a lot of noise, a lot of people talking, but at the end of the day, what happened during our season happened, and that's what it is. But Victor Wembanyama is there and he will bring us a lot. We are pleased ", said Devin Vassell. "There will be cameras, people watching, it will be something important for all of us. I think as long as we feed off each other and play the right way, we'll be fine."
The other big news with the arrival of Victor Wembanyama will concern the defensive aspect. The Frenchman should indeed bring impact and deterrence on this side of the field, which will inevitably help the Spurs to concede fewer points on the one hand, but also to plan on transition play, always too precious.
For Devin Vassell, this is what can completely change the profile of a roster which has ultimately been little renewed.
"We were the worst team in terms of defense last year," continued the Spurs fullback. "That's our main goal. With the arrival of Wemby, everyone has an extra year of experience and I think all the players understand better what you have to do to win: you have to get defensive stops."
Devin Vassell
Percentage
Rebounds
Season
Team
MJ
Min
Shots
3pts
L.F.
Off
Def
Early
Pd
Party
Int
Bp
Ct
Pts
2020-21
SAN
62
17
40.6
34.7
84.3
0.4
2.4
2.8
0.9
1.4
0.7
0.4
0.3
5.5
2021-22
SAN
71
27
42.7
36.1
83.8
0.6
3.7
4.3
1.9
2.0
1.1
0.8
0.6
12.3
2022-23
SAN
38
31
43.9
38.7
78.0
0.2
3.7
3.9
3.6
1.5
1.1
1.5
0.5
18.5
Total
171
24
42.7
36.7
81.6
0.4
3.2
3.7
1.9
1.7
1.0
0.8
0.4
11.2
How to read the stats? MJ = matches played; Min = Minutes; Shots = Successful shots / Attempted shots; 3pts = 3-points / 3-points attempted; LF = free throws made / free throws attempted; Off = offensive rebound; Def=defensive rebound; Tot = Total rebounds; Pd = assists; Fte: Personal fouls; Int = Intercepts; Bp = Lost balls; Ct: Against; Pts = Points.