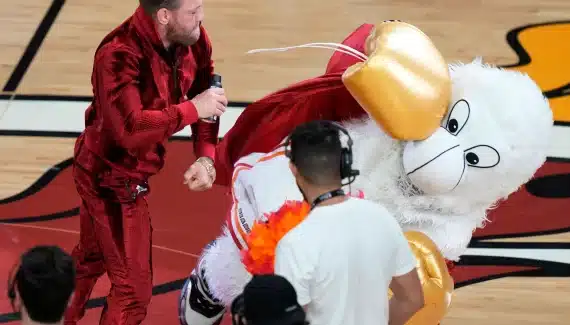 But what took Conor McGregor to hit "Burnie" so hard!? During a Game 4 halftime staging between Miami and Denver to promote painkiller spray, the Heat mascot found himself facing off against Conor McGregor for a pseudo-fight.
Except that MMA fighter obviously does not know how to play comedy, sending a huge left hook to "Burnie" who collapsed on the ground! Conor McGregor finished him off with a second, more restrained blow, before administering the famous painkiller spray, while "Burnie" was evacuated, dragged to the ground…
Despite the discomfort of the sequence, we thought that the mascot fulfilled his role perfectly.
Except that The Athletic revealed yesterday that the painkiller spray wasn't enough to get 'Burnie' back on track and that the protagonist, who suffered the two blows to the face, actually had to be treated in the emergency room at a hospital nearby the Kaseya Center, before returning home, where he would be well, with real painkillers.
Shots
Bounces
Players
GM
Minimum
Shots
3 points
LF
Off
Def
Early
pd
bp
Int
CT
party
Points
Jimmy Butler
64
33.4
53.9
35.0
85.0
2.2
3.7
5.9
5.3
1.6
1.8
0.3
1.3
22.9
Bam Adebayo
75
34.6
54.0
8.3
80.6
2.5
6.7
9.2
3.2
2.5
1.2
0.8
2.8
20.4
Tyler Herro
67
34.9
43.9
37.8
93.4
0.4
5.0
5.4
4.2
2.4
0.8
0.2
1.5
20.1
Max Strus
80
28.4
41.0
35.0
87.6
0.6
2.6
3.2
2.1
0.9
0.5
0.2
2.1
11.5
Kyle Lowry
55
31.2
40.4
34.5
85.9
0.8
3.3
4.1
5.1
1.9
1.0
0.4
2.6
11.2
Victor Oladipo
42
26.3
39.7
33.0
74.7
0.4
2.7
3.0
3.5
2.1
1.4
0.3
2.4
10.7
Caleb Martin
71
29.3
46.4
35.6
80.5
1.2
3.6
4.8
1.6
1.1
1.0
0.4
2.0
9.6
Gabe Vincent
68
25.9
40.2
33.4
87.2
0.4
1.7
2.1
2.5
1.4
0.9
0.1
2.3
9.4
Kevin Love
21
19.9
38.8
29.7
85.7
0.8
4.9
5.7
1.9
1.1
0.4
0.2
1.5
7.7
Cody Zeller
15
14.4
62.7
0.0
68.6
1.7
2.6
4.3
0.7
0.9
0.2
0.3
2.2
6.5
Duncan Robinson
42
16.5
37.1
32.8
90.6
0.2
1.5
1.6
1.1
0.7
0.3
0.0
1.8
6.4
Dewayne Dedmon
30
11.7
49.6
29.7
72.7
0.9
2.7
3.6
0.5
0.6
0.2
0.5
2.0
5.7
Nikola Jovic
15
13.6
40.6
22.9
94.7
0.6
1.5
2.1
0.7
0.7
0.5
0.1
1.3
5.5
Jamal Cain
18
13.3
56.1
35.0
77.3
0.8
2.1
2.9
0.7
0.3
0.6
0.1
1.2
5.4
Omer Yurtseven
9
9.2
59.3
42.9
83.3
0.9
1.7
2.6
0.2
0.4
0.2
0.2
1.8
4.4
Haywood Highsmith
54
18.0
43.1
33.9
46.4
1.1
2.4
3.5
0.8
0.8
0.7
0.3
1.5
4.4
Udonis Haslem
7
10.1
34.5
33.3
80.0
0.6
1.0
1.6
0.0
0.1
0.1
0.3
1.6
3.9
Jamaree Bouyea
4
16.3
46.2
40.0
50.0
0.3
1.0
1.3
1.0
1.0
1.0
0.5
1.3
3.8
Orlando Robinson
31
13.7
52.8
0.0
71.0
1.5
2.5
4.1
0.8
0.5
0.4
0.4
1.7
3.7
Dru Smith
5
13.4
35.7
16.7
0.0
0.2
1.6
1.8
1.0
0.2
0.8
0.6
2.0
2.2