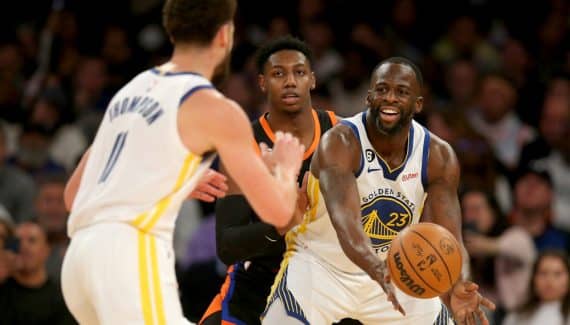 The last time the Warriors came to Madison Square Garden, there was general euphoria as Stephen Curry took the record for the number of 3-pointers scored in career, under the eyes of Ray Allen and Reggie Miller. A year later, the double MVP was not on the field, but sitting on the bench. Injured in the shoulder, he witnessed the rout of his team, beaten by 38 points against the Knicks.
Stephen Curry was not the only absentee since Andrew Wiggins has been in the infirmary for two weeks, and Steve Kerr also had to do without Donte DiVincenzo, sick, and JaMychal Green, in quarantine. Despite these absences, it was believed that Golden State had the means to stand up to New Yorkers. Except that they exploded, overwhelmed by the pace and aggressiveness of Julius Randle's teammates.
"I found that we were not physical enough in the first half" analyzes Steve Kerr. "The consequence is that they recovered the balls that trail, the rebounds, the offensive rebounds… They had a lot of open 3-pointers. Overall, they were free to shoot, they outshot us on the rebound, they were careful on the ball, and they did everything better. »
Jordan Poole and Klay Thompson: 9 stray bullets!
The rebound battle illustrates the dominance of the Knicks with 47 shots against 29, and especially 14 offensive rebounds.
"A lot of their rebounds gave points on second chances. They got a lot of offensive rebounds, and they're one of the best teams in that area." recalls Kevon Looney. "We expected it and we had to stand up to them physically from the start. I don't think we've done a good job in that area. When you let guys find their entry rhythm, it's hard to turn off the tap. »
While the victory in Toronto had given signs of hope, the Warriors quickly fell back into their ways, like a Klay Thompson in great difficulty.
"I found that we were a little too relaxed in the first half" continues Steve Kerr. "We needed Jordan to play a great game, and Klay to score points. Both lost control a bit in the first half, trying to do too much. They knew they were going to have to take on a bigger load. I talked about it a bit after the game the other night: more is the enemy of good for them because they attract so much attention. If they can play without the ball, other things will open up. There were a few possessions where I thought they forced and they lost the ball. But we can't blame it because there is effort. »
Shots
Bounces
Players
GM
Minimum
Shots
3 points
LF
Off
Def
Early
pd
bp
Int
CT
party
Points
Stephen Curry
26
34.4
50.0
43.4
91.9
0.6
6.0
6.6
6.8
3.1
1.0
0.3
2.1
30.0
Andrew Wiggins
22
32.8
51.1
45.0
62.8
1.5
3.6
5.1
2.2
1.4
1.4
0.8
2.9
19.1
Jordan Poole
31
28.9
43.6
33.1
86.4
0.3
1.8
2.2
4.6
3.1
0.8
0.3
2.3
19.0
Klay Thompson
25
31.0
39.9
38.2
87.5
0.5
3.0
3.6
2.4
1.6
0.8
0.5
1.9
18.4
Draymond Green
27
31.0
53.4
31.8
70.0
0.7
5.4
6.1
6.6
2.6
0.8
0.7
3.0
8.4
Jonathan Kuminga
27
17.4
46.8
27.8
69.8
1.0
2.0
3.0
1.3
1.3
0.4
0.5
2.1
7.1
Kevon Looney
31
23.1
65.2
0.0
64.6
2.5
5.3
7.8
2.9
0.4
0.4
0.6
2.8
6.7
Donte Divincenzo
23
20.5
38.8
37.2
80.0
0.9
3.3
4.1
2.7
1.4
1.2
0.1
2.0
6.4
James Wiseman
14
11.8
58.6
0.0
64.0
1.0
2.5
3.5
0.8
0.7
0.1
0.3
2.1
6.0
Jamychal Green
28
14.9
51.2
26.5
73.3
1.4
2.6
4.0
0.8
1.1
0.5
0.4
2.0
5.8
Anthony Lamb
23
17.9
51.0
39.1
33.3
0.7
2.4
3.1
1.5
1.0
0.6
0.3
2.1
5.5
Ty Jerome
15
14.9
50.0
40.0
93.8
0.1
1.3
1.4
2.0
0.5
0.1
0.1
1.1
5.4
Moses Moody
26
14.7
43.6
37.7
82.6
0.3
1.4
1.7
0.8
0.9
0.3
0.2
0.9
4.8
Patrick Baldwin, Jr.
7
5.1
42.9
33.3
50.0
0.0
1.0
1.0
0.1
0.3
0.4
0.0
0.0
2.4
ryan rollins
9
5.1
31.3
37.5
100.0
0.2
0.8
1.0
0.3
1.4
0.0
0.1
1.0
1.9