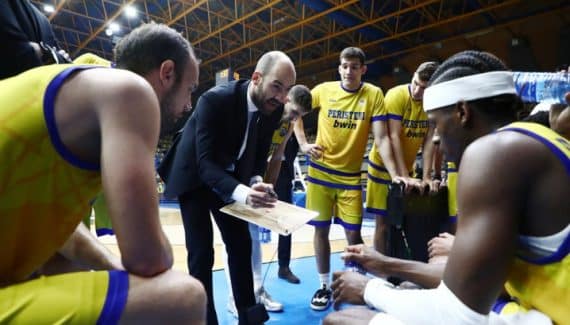 " As I tell my close friends, I was not born in my mother's womb but in a basketball. That is to say if Vassilis Spanoulis was made to play, or else not be very far from the orange ball. Now 40, the Greek basketball legend has not been on the pitch since a last trip with Olympiacos during the 2020/21 season.
Converted into coaching, he has been at the head of Peristeri since this year, which plays in the Greek championship. The triple Euroleague winner (2009, 2012 and 2013), who grew up admiring the exploits of Michael Jordan or local legends like Nick Galis and Panagiotis Giannakis, already has a coaching philosophy in mind.
" With the tempo of the game and the speed with which basketball evolves, sometimes you have to forget the instructions and let the players express themselves », he formulates in an interview for Basketnews.
Giving freedom to players is already a clear principle in the NBA, probably more so than in Europe. And that may be one of the reasons why European managers are having such a hard time getting into the Big League.
"Ten times" truer in the NBA
The NBA, where he played around thirty games with the Rockets in 2006/07, Vassilis Spanoulis is obviously not thinking about it yet as a coach. " But it's nice to see European coaches go there. My opinion is that we have to understand that there is another world out there. If I say European basketball has changed and players are playing more on instinct and talent, which means you can't have the same impact as a coach as before, in the NBA, that's ten times more true. »
Beyond this freedom granted, the key according to him is to find the right chemistry between the right players. And it is more on these aspects, personalities, work ethic or inspiration, that the coach, as a good manager therefore, can be important. More than the game itself.
At their respective clubs, Giannis Antetokounmpo, Luka Doncic and Nikola Jokic are good examples of players who are given maximum leeway. Very proud of the first city, his compatriot, Vassilis Spanoulis considers that the presence of these three players could eventually facilitate the arrival of European coaches in the NBA.
" Of course, we do not put aside Steph Curry, Kevin Durant and all the other superstars. But we are proud to see Europeans being 'franchise players' and leading their team in the league. Maybe it could become a bridge for more European coaches to go there in the future "he hopes so.
FIBA photo credit