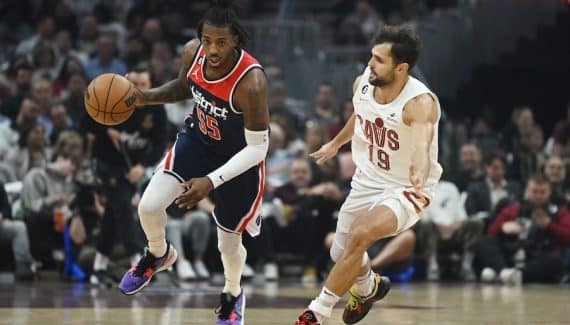 That's what's called a hell of a coincidence. For their first game without Delon Wrighton the sidelines with a large hamstring tear in his right thigh, the Wizards lost to the Pacers tonight in their worst defensive performance of the year.
Authors of 25 points each, Tyrese Haliburton (brimming with creativity ball in hand) and Buddy Hield, well helped by the 27 units of Myles Turner, led the Indiana attack with 127 points scored. Not that Delon Wright alone would have contained the two strong men opposite. But his presence would not have been too much.
" It's hard. We saw it tonight because it's a plague in defense, (Delon Wright) deflects balloons, he is everywhere. It's a plague. He takes care of the big guys, he plays interceptions and does a lot of those things. He is a very good defender », qualifies Bradley Bealauthor of his biggest offensive outing of the year (31 points).
The 20th choice of the 2015 Draft was indeed recruited for his qualities on this side of the field. The proof after four games played, he was downright the best interceptor in the league with just under three stolen balls per game. For a substitute who only plays about twenty minutes per game, it is considerable.
The whole team must compensate
Member of a team determined to make efforts in defense, Delon Wright even displayed the best "Defensive Rating" of the Wizards (100.5 points against 100 possessions when he is in play), but while having the worst "Offensive Rating (87 points)…
For Kyle Kuzma, playing without him represents a " challenge. Most of the time, we now have wingers defending on full-backs, and full-backs on wingers. The absence of Delon will be difficult to manage because he is our best asset and he defends on the backs. "While having the physique, strengthened over the years, to get in touch with interiors. Against Cleveland, for example, we saw him protect the circle against Evan Mobley.
The backs of Washington will therefore have to do violence to compensate for his absence because after Boston, the Wizards play the 76ers of the tandem James Harden – Tyrese Maxey at the back, the Nets of Kyrie Irving then the Grizzlies of Ja Morant. A bunch of All-Star players so…
Wes Unseld Jr. also admits his team didn't deliver its best possible defensive performance against the Pacers. But " I'm not going to blame everything on Delon. I don't think we approached the game with the right frame of mind. When a team takes such a rhythm, it is not linked to a single player. It's everyone. »
Delon Wright
Percentage
Bounces
Season
Crew
GM
Minimum
Shots
3 points
LF
Off
Def
Early
pd
party
Int
bp
CT
Points
2015-16
TOR
27
9
45.0
38.5
74.3
0.3
1.1
1.4
1.2
0.3
0.3
0.6
0.1
3.8
2016-17
TOR
27
17
42.2
33.3
76.4
0.6
1.2
1.8
2.1
1.2
1.0
0.9
0.4
5.6
2017-18
TOR
69
21
46.5
36.6
82.9
0.7
2.2
2.9
2.9
1.2
1.0
1.1
0.5
8.0
2018-19 *
All Teams
75
23
43.4
29.8
79.3
0.9
2.6
3.6
3.3
1.4
1.2
1.0
0.4
8.7
2018-19 *
TOR
49
18
43.3
33.3
86.9
0.8
1.8
2.6
2.2
1.1
0.9
0.8
0.3
6.9
2018-19 *
SAME
26
31
43.4
25.6
74.2
1.1
4.3
5.4
5.3
1.9
1.6
1.5
0.6
12.2
2019-20
DAL
73
22
46.2
37.0
77.0
1.0
2.9
3.8
3.3
1.3
1.2
1.0
0.3
6.9
2020-21 *
All Teams
63
28
46.3
37.2
80.2
1.0
3.2
4.3
4.4
1.2
1.6
1.3
0.5
10.2
2020-21 *
TED
36
29
46.4
34.8
78.9
1.0
3.5
4.6
5.0
1.3
1.6
1.3
0.5
10.4
2020-21 *
BAG
27
26
46.2
39.8
83.3
1.0
2.9
3.9
3.6
1.1
1.6
1.3
0.4
10.0
2021-22
ATL
77
19
45.4
37.9
85.7
0.7
2.2
2.9
2.4
0.7
1.2
0.6
0.3
4.4
2022-23
WAS
4
23
41.7
25.0
60.0
1.0
1.5
2.5
3.3
1.3
2.8
1.0
1.0
6.5
Total
415
21
45.3
35.3
79.7
0.8
2.4
3.2
3.0
1.1
1.2
1.0
0.4
7.2