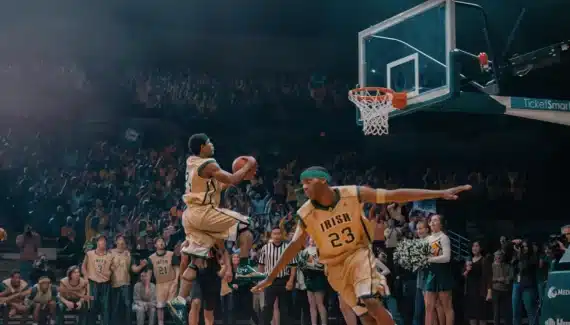 On June 2, "Shooting Stars" is released in the United States, the biopic centered on LeBron James, which recounts his first exploits in Ohio, near the high school of St. Vincent – ​​St. Mary. It was twenty years ago when, in the company of a group of friends, LeBron led this small high school to the national title!
Adaptation of the eponymous book, released in 2009, "Shooting Stars" will be released on June 2 only on the Peacock platform, a subsidiary of Universal. It's only for the United States, and maybe a big competing platform, like Netflix or Amazon Prime, will pick up the rights in a few weeks or months.
Co-produced by SpringHill, the production company created by LeBron James and his partner Maverick Carter, this biopic offered a promising cast since the main role, that of LeBron James, is held by high school student Marquis Cookfuture Oregon player, expected very high in the 2024 Draft.
Scoot Henderson in the casting
Cast as Carmelo Anthony, who faced the St. Vincent–St. Mary Irish with his Oak Hill High School in the 2002/03 season, it was Jett Howard, son of Juwan Howard, who was cast.
Scoot Henderson is also in the cast, and he plays the role of Romeo Travis, one of LeBron James' teammates and best friends. Kentucky player Chris Livingston is also in the game, the winger being born in Ohio and having grown up watching LeBron James' exploits with the Cavaliers.
As for Caleb McLaughlin, one of the stars of the hit series "Stranger Things", he plays the role of Lil Dru, former teammate of LeBron James, seen in France in Monaco and at CSP Limoges.