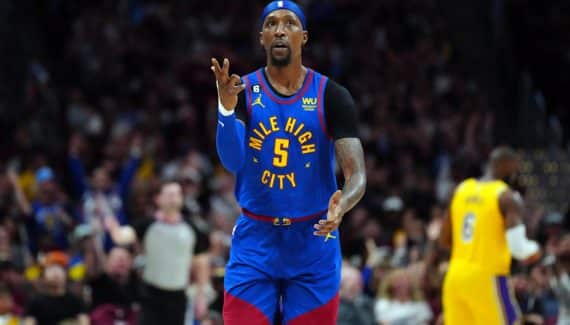 NBA champion in 2020 with the Lakers, then traded to the Wizards to bring in Russell Westbrook, Kentavious Caldwell-Pope is on track to play his second NBA final in three years! Recovered by the Nuggets last summer, and downright extended upon his arrival, "KCP" has brought experience, defense and exterior address since the start of the season, and he confirmed it last night with 17 points at 6 out of 10 on shots. For him, it was essential to strike first.
"We arrived aggressively, bearing in mind that it was a business trip. We wanted to be the first to put the pressure on and not let them put the pressure on us first. We wanted to throw the first punch, and we came in strong in the first quarter. We did exactly what we wanted" he explains about this canon match start.
A more talkative KCP in the field
In defense, Caldwell-Pope leads by example, and we remember his ability to "switch" and come and help from anywhere on the half-court.
"It's just a matter of effort" he assures. "We just want to make the effort with the will to reduce the spaces when they have the ball, and to make a second extra effort when they make the pass. We did it very well, especially in terms of helping, but also helping those who help. This is an important key for us. »
On a personal level, and in attitude, it is a more leader and more vocal KCP that we discover with the Nuggets.
"I feel like I've been talking all season, and even more so in the playoffs, trying to keep my guys motivated for the goal we set for ourselves in training camp." he assures. "We have no room for error. We are too close to our goal so we can't make mistakes when we know the game plan is to follow Reaves. And then when we play "small ball" with Aaron at position 5, he is always on the cover, and we must be ready to manage any errors. »
"The fact that we are not talked about a lot, we take it personally. We use this energy to keep proving everyone wrong"
Like his teammates, KCP is aware that the Nuggets are underestimated, and that few imagined them capable of turning a corner this season. But he assures that from training camp, it was the title!
"It's been like this since training camp, since we've been playing together and throughout the season. It's not for nothing that we are number 1 in the West " he recalls. "I believed from the start that we could win the title. It was everyone's mindset. We knew we could get along and play together. We just wanted to keep playing hard, together and doing great things. We are the underdogs. We don't get the respect we deserve. Like I said, there's a reason we're #1 in the West. The fact that we are not talked about a lot, we take it personally. We use this energy to keep proving everyone wrong. »