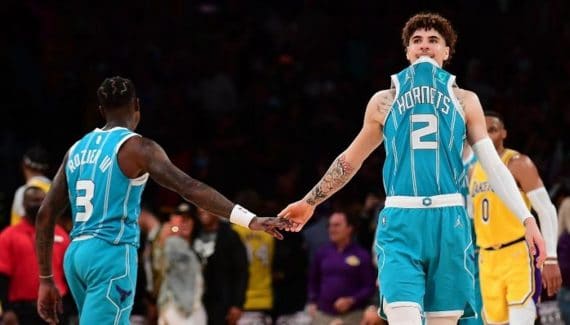 Firmly installed in the Top 8 of the Eastern Conference for several weeks, the Hornets have been in the hard for ten days. Defeated by the Hawks, the Raptors, the Clippers and then the Celtics, James Borrego's men are taking the hit as All-Star Weekend approaches. Only their two victories against the Pacers then against the Lakers allowed them to breathe.
Still "playoffable", the Charlotte players must however recover quickly, because their upcoming schedule will not be easy, with confrontations planned (all at home) against the Cavaliers, the Heat, the Raptors and the Bulls.
Suffice to say that the next few days look like a moment of truth for LaMelo Ball's teammates…
" Everyone wants to make the playoffs and it's very tight right now. It'll probably be until the end", recognized the 20-year-old leader, author of his new career points record last night (38 points, 5 rebounds, 9 assists), but who could not avoid the defeat of his family, in Massachusetts.
A defeat conceded at the cost of a "money-time" rather poorly controlled by the Hornets, tied (107-107) one minute from the end, but then dominated in experience by more killer and better organized Celtics in hot times.
" We have to take what the defense gives us ", explained LaMelo Ball, concerning the last minute missed by his team, which conceded a 6-0 there. " I have the feeling that we looked a little too much for the 3-pts, whether it was with PJ [Washington] or with me. Maybe we could have had a better shooting position, or attacked the circle, I don't know. But we'll bounce back, watch it on video and go again [au travail]."
A group still in the learning phase
Inevitably disappointed by the outcome of this confrontation against Boston, the more experienced Terry Rozier knows that such defeats can only advance the young group of Charlotte. A group that must try to get as close as possible to the level of application of the C's in the "money-time", if it wants to hope to reach the playoffs.
However, "Scary Terry" does not have time to dwell on failures and he is already looking to the rest of the events.
" It will be such difficult battles [qu'hier soir], everyone will fight for a place [dans le Top 8] ", he estimated, about this dantesque race to the Top 8 in the East. " We're already looking forward to our matchups with Miami, Detroit, Cleveland and those kinds of teams. We will try to remain aggressive, hoping not to miss us [sur la fin] like [hier soir]."
Invited to speak on this regained competitiveness of the Eastern Conference, where now each defeat can be expensive and where a negative balance sheet is no longer enough to qualify for the playoffs, James Borrego wants above all to be positive about it, rather than to worry about it.
" I would love for us to be 10 games ahead of everyone else, but that's not the case "conceded the coach of the Hornets. " But that's what it is. The East has improved, there is more depth and with the trade deadline approaching it can make it even more exciting. It's a great thing for our league, for our team. We're gonna have to fight and deserve [cette place en playoffs], because no one is going to give it to us. And that can only make us better."
Shots
Bounces
Players
GM
Minimum
Shots
3 points
LF
Off
Def
Early
pd
bp
Int
CT
party
Points
Miles Bridges
49
35.9
48.8
31.8
78.6
1.2
6.1
7.3
3.5
1.8
1.1
0.9
2.6
20.2
Lamelo Ball
44
32.2
42.3
35.7
88.2
1.6
5.6
7.2
7.7
3.0
1.5
0.5
3.0
19.5
terry rozier
42
32.7
43.1
37.3
80.4
0.6
3.5
4.1
4.0
1.2
1.2
0.4
1.4
18.2
Gordon Hayward
45
33.1
47.1
39.7
84.6
0.8
3.9
4.7
3.7
1.7
1.0
0.5
1.8
17.0
Kelly Oubre, Jr.
45
28.0
45.5
37.1
66.1
1.0
2.9
4.0
1.2
1.0
1.2
0.3
2.5
16.7
Pj Washington
34
23.7
43.7
38.7
72.9
1.3
3.9
5.2
2.1
1.4
0.7
1.0
2.5
9.7
Cody Martin
46
27.5
46.0
42.7
66.7
1.3
3.0
4.3
2.6
0.8
1.3
0.5
1.8
8.1
mason plumlee
42
25.1
63.7
0.0
33.7
2.4
5.0
7.4
2.9
1.3
0.9
0.7
3.0
6.8
Jalen Mcdaniels
39
17.6
49.2
37.2
67.4
0.7
2.7
3.5
1.1
0.8
0.5
0.4
1.8
6.6
james bouknight
24
10.4
36.8
34.1
85.2
0.7
0.9
1.6
0.8
0.4
0.2
0.0
0.9
5.0
Ish Smith
34
14.0
39.5
41.7
63.2
0.3
1.3
1.5
2.6
1.0
0.6
0.3
1.0
4.6
Nick Richards
37
8.3
67.5
0.0
74.3
0.8
1.3
2.0
0.3
0.5
0.2
0.5
1.2
3.5
Jt Thor
15
8.5
34.4
25.0
70.0
0.4
0.9
1.3
0.5
0.3
0.3
0.4
0.9
2.3
Vernon Carey, Jr.
4
4.2
50.0
0.0
66.7
0.8
0.5
1.2
0.0
0.2
0.2
0.0
0.2
2.0
Kai Jones
16
2.9
66.7
50.0
25.0
0.1
0.4
0.5
0.2
0.3
0.0
0.0
0.3
0.9
Scottie Lewis
2
3.3
0.0
0.0
50.0
0.0
0.0
0.0
0.5
0.0
0.5
0.0
0.0
0.5
Arnoldas Kulboka
1
2.7
0.0
0.0
0.0
0.0
0.0
0.0
0.0
0.0
0.0
0.0
0.0
0.0