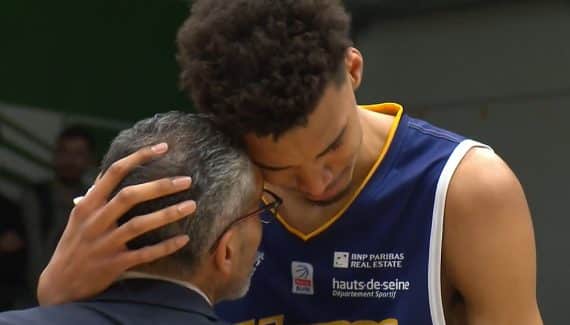 There was a particular flavor this Tuesday evening for the Ile-de-France derby between Nanterre and Boulogne-Levallois. The reason ? The return of Victor Wembanyama in Nanterre, where "Wemby" did all his classes, from 2014 to 2019 in a youth team before going pro under the orders of Pascal Donnadieu from 2019 to 2021.
For what will remain as his last game where it all started for him before he left for the NBA, Victor Wembanyama wanted to take care of his exit. As against Bourg-en-Bresse at the Accor Arena a few days earlier, the future number 1 of the Draft still entertained, compiling 25 points, 5/12 in shooting, 17 rebounds, 3 assists and 4 blocks for 32 rating. Productive until the end, it was he who took off for a left-handed dunk to tip the match into "money-time", when the score was 72-68. He then finished the job with a left-handed lay-up followed by a counter on Simeon Kalemba to secure the Metropolitans victory 92, 82-72.
An "attachment" with Nanterre
The Boulogne-Levallois player has finally offered himself a lap of honor to thank his training club and his supporters, a moving moment during which he let out a few tears.
"His emotion is the best proof of his attachment to Nanterre", noted Pascal Donnadieu after the meeting. " From now on we will be his first supporters, and I have no doubt that he will have the career that is announced to him.
While his little comrades have formalized their presence at the next Draft Combine, the Ile-de-France residents will still have two championship games to play, Friday in Cholet and next Tuesday against Paris Basketball before moving on to the playoffs.