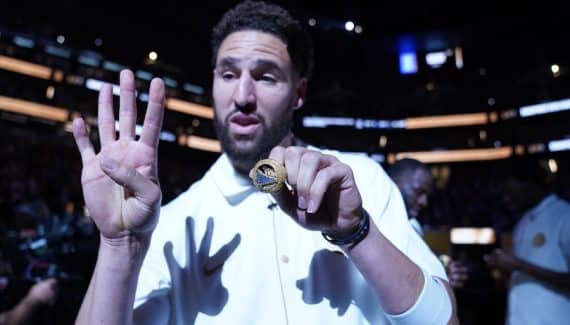 " She's bigger, better, and more badass. It's Kirk Lacob, assistant GM of the Warriors, who says it when speaking of the championship rings given to the Californians last night. Each year, the titled franchise redoubles its originality in the design of this symbolic jewel. The 2022 version, which ESPN is looking atis no exception.
Behind this ring, there is a man, Jason Arasheben, who runs the Jason of Beverly Hills jewelry store, based in Los Angeles. You should first know that he says he received messages from Warriors players when the latter… had only just eliminated the Mavs in the conference final. " Do us something crazy with the ring ", they said in short while the players of the Bay still had to pass the Celtics obstacle.
The war in Ukraine complicates matters
The specialist still waited for the outcome of the final to think about the ring. With ever more specific details. There will be 16 carats, in reference to the number of victories won in the playoffs (for comparison their 2017 ring had 11). The inner crown is adorned with 0.91 carats of white diamonds, in tribute to the team's 91% home winning percentage in the playoffs (11 wins in 12 games).
On the face of the ring, a cutout of the Bay Bridge is made up of 43 white diamond baguettes, representing… Stephen Curry's 43-point performance in Game 4 of the Finals. The ring is also composed of seven carats of yellow diamonds, a rare pearl that jewelers have taken months to find.
The trade embargoes resulting from the war in Ukraine did not simplify their task. They had to source from Belgium, Israel, India and Canada to find enough. An additional challenge for the team of jewelers who only had five weeks to manufacture the 65 rings ordered, each requiring 40 to 50 hours and seven different specialists.
A reminder of the route
Beyond the number of carats, the specialists, in collaboration with the players and the leaders of the franchise, wanted to tell the story of this season ended in apotheosis.
" The course is important. That's the story you try to tell with any ring. The ring itself is cool, flashy. But it's really the physical manifestation of this course. She's supposed to remind you of everything you've been through notes Kirk Lacob, who oversaw the design.
The Warriors leader has only met the jeweler three times, but following numerous updates by text message or email during months of design, the first estimates that he has seen around twenty versions of the different parts of the ring. before deciding on the final model.
Kirk Lacob, for example, wanted the same round shape as their 2015 ring because for the franchise, this unexpected 2022 title has an aftertaste of the first title of the Stephen Curry era. " It's similar but it's a new era ", however, ends the leader.