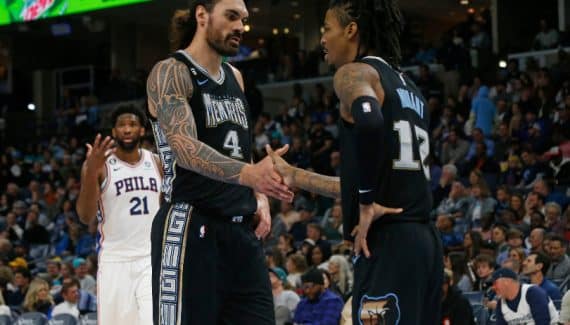 In the Grizzlies' "ideal" five major (with Ja Morant, Desmond Bane, Dillon Brooks, Jaren Jackson Jr), Steven Adams is clearly not the most highlighted name. However, with his rough 5 position profile and quite mobile for his stature, the New Zealander is an important asset in Taylor Jenkins' system.
The last match won by Memphis against Philadelphia was an opportunity to realize this. Even if Joel Embiid blackened his line of stats with 35 points (at 13/26 shooting), 11 rebounds and 8 assists, Steven Adams gave him a hard time and was also productive, notably with 16 rebounds ( including 10 offensive!), 6 assists, 3 interceptions and 3 blocks.
A positive record against the big pivots of the league
Also important in attack, especially in the two-man game with Ja Morant, Steven Adams remains above all an intimidating force of choice for his team. And his presence is important to try to contain the dominant interiors currently playing in the NBA, from Joel Embiid to Nikola Jokic via Anthony Davis, Bam Adebayo or even Giannis Antetokounmpo, whom he can help try to stop.
"That's what makes it so great for all of us as a whole. The fact that he rises to the challenge of defending against the best big opponents, being able to limit them and make their shots as difficult as possible "said Ja Morant. "He is a key part of our team and we are very grateful to him".
If we put aside the last match against Philly, its impact has still been positive since the start of the season against the opposing 5 positions. While waiting for the first confrontation of the season with Nikola Jokic's Nuggets, in 15 days, he contained Domantas Sabonis rather well, limited to 9 and 11 points in two Grizzlies victories, Jonas Valanciunas (2 and 4 points for 6 rebounds in total for the Lithuanian), or even Rudy Gobert, 1 rebound and 9 points during one of the two confrontations between the two teams.
In progress when he moves away from the painting
We can also mention his contribution against Kristaps Porzingis, limited to 10 points (3/13 shooting) and 4 rebounds in the victory of the Grizzlies, simply the Latvian's worst offensive game this season. As against KP, Steven Adams sometimes had to step out of his comfort zone against Joel Embiid, who challenged him wide or as a pick-and-roll ball carrier. Situations that help him to progress, however.
"It's just different, because these players put you in that kind of situation. I don't often get the chance to defend them on that, so I really like it because it challenges me. It's really fun for me", he explainedhe who had yet experienced the series of playoffs against Minnesota from the bench last season, precisely because of the fleeing interior profile of Karl-Anthony Towns.
For Jaren Jackson Jr, it is a "security" to be able to rely on such a force of nature.
"He's been doing it for a while"JJJ recalled, regarding his teammate's defense against major league interiors. "I think we've all been fans of Steve, even before he was here. Now it's clearly easier to love him because he's here and with us rather than in the camp opposite.
While waiting to stuff the Nuggets of Nikola Jokic then the Suns of Deandre Ayton, the next clash of titans which is looming for Steven Adams will be against the Heat of Bam Adebayo this Monday. On your predictions…
steven adams
Percentage
Bounces
Season
Crew
GM
Minimum
Shots
3 points
LF
Off
Def
Early
pd
party
Int
bp
CT
Points
2013-14
OKAY
81
15
50.3
0.0
58.1
1.8
2.4
4.1
0.5
2.5
0.5
0.9
0.7
3.3
2014-15
OKAY
70
25
54.4
0.0
50.2
2.8
4.6
7.5
0.9
3.2
0.5
1.4
1.2
7.7
2015-16
OKAY
80
25
61.3
0.0
58.2
2.7
3.9
6.7
0.8
2.8
0.5
1.1
1.1
8.0
2016-17
OKAY
80
30
57.1
0.0
61.1
3.5
4.2
7.7
1.1
2.4
1.1
1.8
1.0
11.3
2017-18
OKAY
76
33
62.9
0.0
55.9
5.1
4.0
9.0
1.2
2.8
1.2
1.7
1.0
13.9
2018-19
OKAY
80
33
59.5
0.0
50.0
4.9
4.6
9.5
1.6
2.6
1.5
1.7
1.0
13.9
2019-20
OKAY
63
27
59.2
33.3
58.2
3.3
6.0
9.3
2.3
1.9
0.8
1.5
1.1
10.9
2020-21
NO
58
28
61.4
0.0
44.4
3.7
5.2
8.9
1.9
2.0
0.9
1.3
0.7
7.6
2021-22
SAME
76
26
54.7
0.0
54.3
4.6
5.4
10.0
3.4
2.0
0.9
1.5
0.8
7.0
2022-23
SAME
21
27
59.3
0.0
30.6
5.2
6.0
11.2
2.3
2.5
0.9
2.2
1.1
7.9
Total
683
27
58.8
7.1
53.9
3.6
4.4
8.1
1.5
2.5
0.9
1.5
1.0
9.2