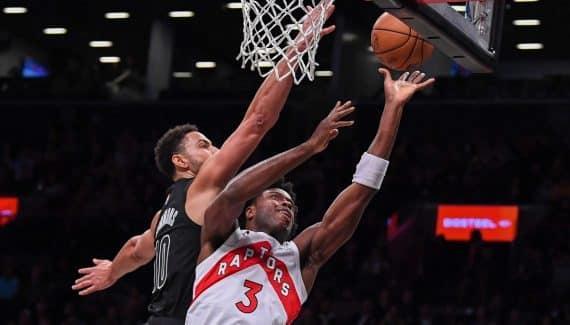 He had spent his first match in the fog, dominated in defense by Zion Williamson and harmless in attack. In order to put this bad game behind him, Ben Simmons had to answer for the reception of the Raptors.
For his coach, he succeeded in his mission, even if the offensive figures are still modest with only 6 points. He nevertheless shot at 3/5 and compiled 10 rebounds, 8 assists and 2 blocks.
"It's a step forward for him"says Steve Nash for ESPN. "From the start, he was aggressive. He's been in the game and every time he's been a problem for the Raptors. He's starting to show the player he can be. He still has a long way to go and I'm proud of him. »
Kyrie Irving and Kevin Durant did the most on offense with 57 points between them, and the former Philadelphia player focused on defense and getting it right.
"He played liberated", finds "KD". "He didn't think too much. We were all a little anxious the last game, with the season starting. He had the impact he could have in this game and we needed every input. »
Does Simmons think he had a better game than against the Pelicans? "It was a little better" he answers. "I attacked, I was myself. It's easy to say, but to do is hard. I forced myself. I didn't make six mistakes, that's already good, I lost fewer balls too. We must continue like this. »
Ben Simmons
Percentage
Bounces
Season
Crew
GM
Minimum
Shots
3 points
LF
Off
Def
Early
pd
party
Int
bp
CT
Points
2017-18
PHL
81
34
54.5
0.0
56.0
1.8
6.4
8.1
8.2
2.6
1.7
3.4
0.9
15.8
2018-19
PHL
79
34
56.3
0.0
60.0
2.2
6.7
8.8
7.7
2.7
1.4
3.5
0.8
16.9
2019-20
PHL
57
35
58.0
28.6
62.1
2.0
5.8
7.8
8.0
3.3
2.1
3.5
0.6
16.4
2020-21
PHL
58
32
55.7
30.0
61.3
1.6
5.6
7.2
6.9
3.0
1.6
3.0
0.6
14.3
2022-23
BRK
1
23
66.7
0.0
0.0
0.0
5.0
5.0
5.0
6.0
0.0
3.0
0.0
4.0
Total
275
34
56.0
14.7
59.7
1.9
6.2
8.1
7.7
2.8
1.7
3.4
0.7
15.9