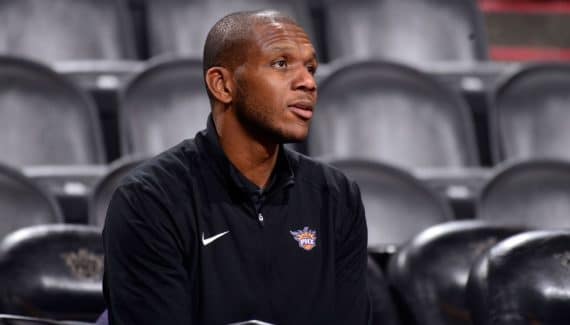 This is the kind of rumors able to mess up a locker room. When Kevin Durant requested his transfer just before the start of free agency, all eyes quickly turned to Miami and Phoenix. And inevitably, all the players of the two squads have become potential bargaining chips.
More than two months later, nothing has finally changed. The Nets and Kevin Durant have reviewed their positions and will finally go back to fighting together in 2022/23.
At the Suns, it is still time to defuse what such a bombshell could have caused among fans, some of whom may have blamed Phoenix's "front office" for not having "done enough" to recover one of the best players on the planet. It is therefore up to James Jones, the GM, to clarify the situation and recall what actually happened, namely not much…
"We spoke with Brooklyn about their desires and what they were trying to do, but ultimately I would say like most teams there was nothing to do", he thus answered on the subject. "There hasn't been a lot of discussion, in-depth discussion about it. I think every team in the league probably called them to take the temperature and see what looked doable. But what about the discussions and their interest? I'm just saying there's nothing to say."
The Nets never seriously negotiated
If Phoenix did not insist, it is also for a simple reason: Brooklyn did everything to try to make Kevin Durant change his mind, initially respecting his desires elsewhere while discussing all the same with other clubs, without any real intention of concluding an agreement.
"Because Brooklyn wanted to keep Kevin Durant in Brooklyn. And that's why he's in Brooklyn and not on another team. As far as we are concerned, I understand. It's always a big talking point, but the thing people forget is that when you're talking about trades, or any player acquisition, the team that has the player has to be ready to get him out. . And so if they don't move it, which they did, it's still just a conversation. It also feeds a great interest for NBA fans and fans of the team in question.
Between the extension of Deandre Ayton and the non-arrival of Kevin Durant, Phoenix is ​​therefore preparing to leave with the same forces present, and the determination to find the NBA finals. Although he understands the disappointment of Suns fans, James Jones does not dwell on their dismay either.
"My goal is always to try to do what's in the best interest of the team and try to make the team better. We have made these efforts. If they succeed, so much the better. If not, we always aim to improve our team. If it's done internally with the guys we have, we're very confident. I don't pay attention to what fans or parties outside the conversations think, because they're working with limited and incomplete information."he concluded.
Shots
Bounces
Players
GM
Minimum
Shots
3 points
LF
Off
Def
Early
pd
bp
Int
CT
party
Points