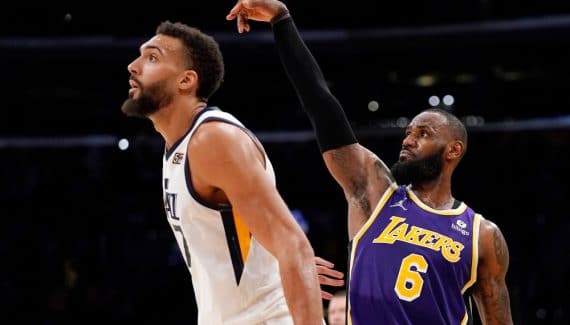 Even at 37, LeBron James still has as much impact on his team. Rudy Gobert experienced it once again this week in the Lakers' victory over the Jazz, with 33 points, 8 rebounds and 6 assists passed by the four-time NBA champion.
In the league since 2013, the French pivot was able to see how LBJ spoke about the second part of his career, until achieving this crazy series of 25-point matches, witness to the iron health of the King.
"Since I've been in the league, I've gotten used to playing against LeBron James. It really feels like he hasn't taken it down a notch. More than that, he's even better than before, so that's pretty impressive. Whatever he does, I don't think there's been a player in the history of our game who's been doing what he's doing at such a high level for so long. It is really impressive ", did he slip from Cleveland.
The importance of good nutrition to play extra time
Inevitably, his longevity inspires the Frenchman, who wants to try to do the same. With the hard work done by LeBron James for almost twenty years, comes an irreproachable lifestyle, a point on which NBA players have evolved considerably over the past two decades.
"I think players are learning earlier and earlier in their career the importance of nutrition and taking care of themselves. I think a lot of guys retire early because they got injured or they didn't have the right knowledge, nutrition and that kind of stuff."he added. "I'm still learning about it. I'm very curious about nutrition and everything. I learned very young that I couldn't drink and then be able to perform, so I stopped drinking during the season from very young. You just get to know yourself, know your body, know your mind. It comes very quickly for some, later for others, but I think it's important if you want to play at your maximum potential.
Particularly in his position and with his size, these little "nexts" are important factors that can affect his longevity. Because when it comes to the love of the game, Rudy Gobert is still just as motivated. So why not aim for 19 years of career, like LeBron James?
"I like this game. I like the competitive spirit… We'll see how I feel. I take care of myself to try and see how far I can go and if I feel like I can't play anymore or I'm losing that competitiveness then I'll probably quit. But what is certain is that I would like to play for 19 years".
Rudy Gobert
Percentage
Bounces
Season
Team
GM
Minimum
Shots
3 points
LF
Off
Def
Early
pd
party
Int
bp
CT
Points
2013-14
UTH
45
10
48.6
0.0
49.2
1.1
2.3
3.4
0.2
1.3
0.2
0.7
0.9
2.3
2014-15
UTH
82
26
60.4
0.0
62.3
3.2
6.2
9.5
1.3
2.1
0.8
1.4
2.3
8.4
2015-16
UTH
61
32
55.9
0.0
56.9
3.4
7.5
11.0
1.5
2.7
0.7
1.9
2.2
9.1
2016-17
UTH
81
34
66.1
0.0
65.3
3.9
8.9
12.8
1.2
3.0
0.6
1.8
2.6
14.0
2017-18
UTH
56
32
62.2
0.0
68.2
3.0
7.8
10.7
1.4
2.7
0.8
1.9
2.3
13.5
2018-19
UTH
81
32
66.9
0.0
63.6
3.8
9.0
12.9
2.0
2.9
0.8
1.6
2.3
15.9
2019-20
UTH
68
34
69.3
0.0
63.0
3.4
10.1
13.5
1.5
3.2
0.8
1.9
2.0
15.1
2020-21
UTH
71
31
67.5
0.0
62.3
3.4
10.1
13.5
1.3
2.3
0.6
1.7
2.7
14.3
2021-22
UTH
44
32
71.1
0.0
68.9
3.5
11.3
14.8
1.2
2.7
0.8
1.8
2.3
15.7
Total
589
30
65.1
0.0
63.5
3.3
8.3
11.6
1.3
2.6
0.7
1.7
2.2
12.3