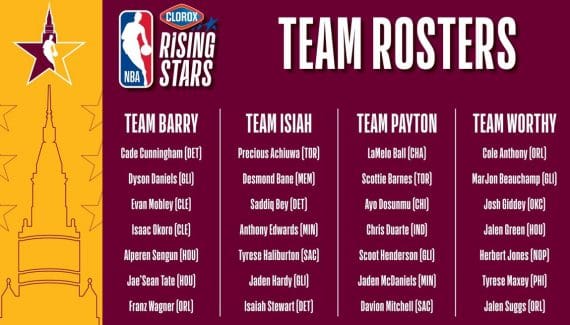 The All-Star Weekend 2022 continues to unfold and the NBA has revealed the exact composition of each of the four teams that will face each other on Friday, February 18, in Cleveland, as part of the Rising Stars Challenge.
As a reminder, this year, no less than 12 rookies, 12 sophomores and 4 youngsters from the G-League have been chosen to take part in this match bringing together some of the best nuggets in the country.
As with the big boys, it was at the end of a Draft that each squad could be formed by the four legendary coaches appointed for the occasion. Namely Rick Barry, Isiah Thomas, Gary Payton and James Worthy.
Anthony Edwards still No. 1 in the Draft
Selected in first position, as in the Draft 2020, Anthony Edwards thus lands in the team of Isiah Thomas, in the company of Saddiq Bey (N°8), Desmond Bane (N°9), Isaiah Stewart (N°16) , Tyrese Haliburton (#17), Precious Achiuwa (#24) and Jaden Hardy (#25).
The No. 2 of this special Draft is none other than Evan Mobley, who will be part of Rick Barry's team with another star rookie, Cade Cunningham (No. 7), but also Franz Wagner (No. 10) , Jae'Sean Tate (#15), Isaac Okoro (#18), Alperen Sengun (#23) and Dyson Daniels (#26).
For his part, LaMelo Ball was drafted in third choice by Gary Payton. For one evening, he will be the teammate of Scottie Barnes (N°6), Jaden McDaniels (N°11), Ayo Dosunmu (N°14), Chris Duarte (N°19), Davion Mitchell (N°22 ) and Scoot Henderson (#27).
Finally, Cole Anthony was selected in fourth position by James Worthy, who can also rely on Josh Giddey (N°5), Jalen Green (N°12), Herbert Jones (N°13), Jalen Suggs (N°20), Tyrese Maxey (N°21) and the last chosen, MarJon Beauchamp (N°28).
We are already looking forward to seeing all these nuggets compete against each other, in a tournament that will use the "Elam Ending" format, for its two semi-finals (objective set at 50 points to clinch victory), then for its final (objective set at 25 points to win the title).