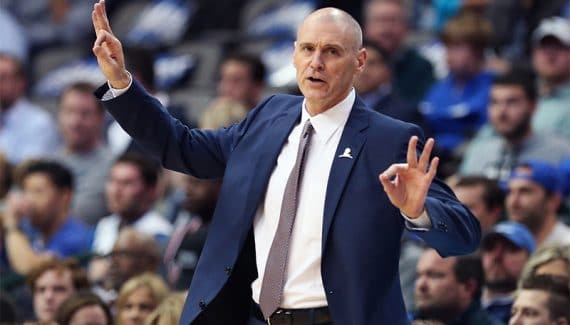 Deprived of a reunion during the first meeting between the two teams in Indiana, on December 10, due to his isolation, Rick Carlisle will be there tonight for his return to Dallas.
"It will be great to see a lot of people again, especially those who have been very important in what we have accomplished. I have many great memories of it. If I was able to stay 13 years in the same place, it is largely thanks to two people, Mark Cuban and Dirk Nowitzki. Without them, the franchise would not have had this stability that allowed me to stay there for 13 years", he said.
His former foals ready to house him
The meeting will also be special for players like Jalen Brunson, Maxi Kleber and Dorian Finney-Smith, who had only known Rick Carlisle as coach until this season.
"I spent a lot of time with Rick Carlisle, especially for my jump shot. He also taught me the game in the NBA. He's a smart coach. Even when we weren't really good, I felt like we were in every game. He always had a good game plan for any opponent. Especially when Dirk was on the pitch and we had to find ways to defend certain players." remembered Dorian Finney-Smith. "I'm going to chamber, probably also his assistant, Mike Weinar. I can not help myself. Especially if I put a 3-pointer in front of their bench. It's going to be fun".
In the Top 15 of the best coaches in history for Jason Kidd
His successor, Jason Kidd, with whom he wrote the most beautiful page in the history of the franchise by winning the NBA title in 2011, is also impatient to meet the club's former "head coach" again, from 2008 to 2021. .
"He's had a great run here. He had missed us in Indiana because of the Covid, so I'm happy to see him again. I have a lot of great memories here with Rick", rejoiced Jason Kidd. "In the world of coaching, there are many coaches who have a long career. When you look at Gregg Popovich, Erik Spoelstra, these are guys who win. And if you win, you tend to stay. You're judged on wins and Rick won a lot in Dallas."
For Jason Kidd, Rick Carlisle has his place in the Top 15 of the best coaches in the history of the league.
"He has always been well prepared. He knows what it takes to win. He has a game plan and he's not afraid to make changes as the game progresses. When you look at the list of coaches, I think there is a Top 15 that stands out. He could be considered one of the top 15 to ever coach in the NBA. The way he prepares for matches is unlike any other. He is always ready for the fight".