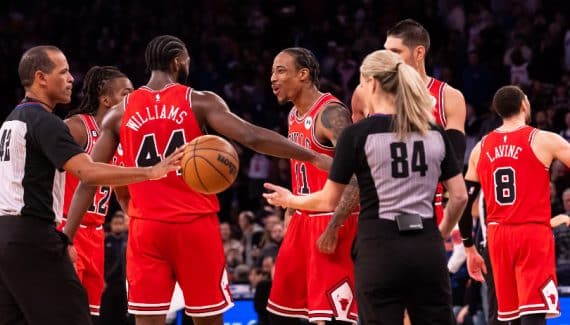 A few days ago, a Bleacher Report article explained that executives were closely monitoring the situation of the Bulls, believing that DeMar DeRozan could claim his transfer at the end of the current campaign.
The winger is however under contract until 2024 but the leaders (anonymous) were visibly betting on an implosion of the Bulls, driven by the frustration of the former Raptors and Spurs player who, at 33, no longer has a time to waste if he wants to be able to win an NBA title.
DeMar DeRozan initially responded to these rumors with irony. On his Instagram accounthe posted a clip from the film "Training Day". "It's a newspaper, isn't it?" » asks the character played by Denzel Washington. "It's 90% bullshit, but it's fun. That's why I read it. »
"If I sign something, my goal is always to finish it" detailed the winger to the Chicago Sun-Times, before his winning shot against the Knicks. "It's like that with everything in life. I signed up to be a father, not to be a part-time father. I treat all subjects the same. »
For DeMar DeRozan, it is very bad to know him to think that he imagines leaving the ship along the way.
"In my 14 year career, I've never talked about a trade, asked for a trade or anything. So when I see something like that in an article, it mostly makes me laugh. »
That's why he preferred to make fun of it.
"When you're young in the NBA, you find out things, if you hear rumors like that, it disturbs you because you wonder where it comes from. But I have grown old, and nothing disturbs me now. Maybe if my mother said stuff in the press, it would bother me, but apart from that, no, nothing affects me. »
DeMar DeRozan
Percentage
Bounces
Season
Team
GM
Minimum
Shots
3 points
LF
Off
Def
Early
pd
party
Int
bp
CT
Points
2009-10
TOR
77
22
49.8
25.0
76.3
0.9
2.0
2.9
0.7
2.3
0.6
0.8
0.2
8.6
2010-11
TOR
82
35
46.7
9.6
81.3
0.9
2.9
3.8
1.8
2.7
1.0
1.8
0.4
17.2
2011-12
TOR
63
35
42.2
26.1
81.0
0.6
2.7
3.4
2.0
2.6
0.8
2.0
0.3
16.7
2012-13
TOR
82
37
44.5
28.3
83.1
0.6
3.3
3.9
2.5
2.1
0.9
1.8
0.3
18.1
2013-14
TOR
79
38
42.9
30.5
82.4
0.7
3.7
4.3
4.0
2.5
1.1
2.2
0.4
22.7
2014-15
TOR
60
35
41.3
28.4
83.2
0.7
3.9
4.6
3.5
2.0
1.2
2.3
0.2
20.1
2015-16
TOR
78
36
44.6
33.8
85.0
0.8
3.7
4.5
4.0
2.1
1.0
2.2
0.3
23.5
2016-17
TOR
74
35
46.7
26.6
84.2
1.0
4.3
5.2
3.9
1.8
1.1
2.4
0.2
27.3
2017-18
TOR
80
34
45.6
31.0
82.5
0.7
3.2
3.9
5.2
1.9
1.1
2.2
0.3
23.0
2018-19
SAN
77
35
48.1
15.6
83.0
0.7
5.3
6.0
6.2
2.3
1.1
2.6
0.5
21.2
2019-20
SAN
68
34
53.1
25.7
84.5
0.7
4.9
5.5
5.6
2.7
1.0
2.4
0.3
22.1
2020-21
SAN
61
34
49.5
25.7
88.0
0.7
3.6
4.3
6.9
2.1
0.9
2.0
0.3
21.6
2021-22
CHI
76
36
50.4
35.2
87.7
0.7
4.4
5.2
4.9
2.3
0.9
2.4
0.3
27.9
2022-23
CHI
31
36
50.8
29.5
88.8
0.5
4.5
5.0
4.7
2.7
0.8
2.0
0.4
25.9
Total
988
34
46.6
28.8
83.9
0.7
3.7
4.4
3.9
2.3
1.0
2.1
0.3
20.9