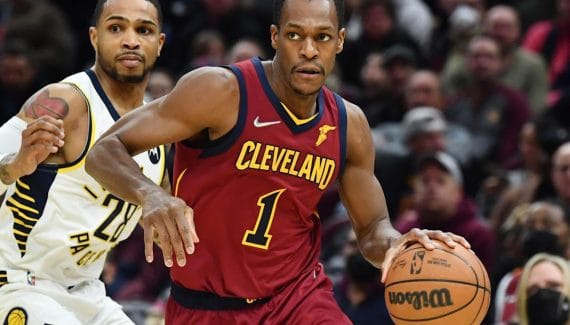 More than a shadow of himself in the doldrums of Los Angeles, Rajon Rondo has found some color since his transfer to Cleveland at the beginning of January. Coming to replace Ricky Rubio in the role of the experienced lining of Darius Garland, the 2008 and 2020 champion finds his marks in this Cavaliers team which continues to amaze.
After a game with 15 assists and 12 assists against the Pacers last week, the veteran delivered another quality performance tonight against the same Indiana team. Abused from the first quarter, and yet behind by 21 points before half-time, JB Bickerstaff's men reversed the trend after the break and managed to win.
And Rondo has something to do with it: never panicked despite Cleveland's significant delay on the scoreboard, the former Kentucky point guard has slowly but surely put his team back on track. He completed the game with 17 points (6/7), 7 rebounds, 6 assists and 3 steals, his most successful game since arriving in Ohio last month. Despite 16 seasons on the clock in the league, the player still has some under the hood.
" The reason we made this transfer is because we thought he could help us." explained the coach of the Cavaliers after the improbable victory of his players. " I have absolute confidence in him. Even though he hasn't been with us long, just look at his entire career, all the things he has achieved in this league. These are things that have a positive impact on a team. […] He was all in control, that's the thing with him. A team takes us by surprise as they [les Pacers] have done so, the reaction is to try to get back into the game quickly, you will run behind the score. But when he is on the pitch, everyone trusts him, his presence is reassuring for his teammates."
While he brought only 3.1 points and 3.7 assists per game in 16 minutes during his 18 games in Los Angeles, Rajon Rondo finds an important role in a stable configuration in Cleveland. In 12 games so far, he is averaging 7.8 points and 4.8 rebounds in 22 minutes per game. A real X factor when coming off the bench.
" I wasn't playing the way I expected in LA, but coming here was a positive upheaval for me. Maybe I'll play 10 more years, who knows. he concluded humorously.
Rajon Rondo
Percentage
Bounces
Season
Team
GM
Minimum
Shots
3 points
LF
Off
Def
Early
pd
party
Int
bp
CT
Points
2006-07
BOS
78
24
41.8
20.7
64.7
1.0
2.8
3.7
3.8
2.3
1.6
1.8
0.1
6.4
2007-08
BOS
77
30
49.2
26.3
61.1
1.0
3.2
4.2
5.1
2.4
1.7
1.9
0.2
10.6
2008-09
BOS
80
33
50.5
31.2
64.2
1.3
4.0
5.2
8.2
2.4
1.9
2.6
0.1
11.9
2009-10
BOS
81
37
50.8
21.2
62.1
1.2
3.2
4.4
9.8
2.4
2.3
3.0
0.1
13.7
2010-11
BOS
68
37
47.5
23.3
56.8
1.3
3.1
4.4
11.2
1.8
2.3
3.4
0.2
10.6
2011-12
BOS
53
37
44.8
23.8
59.7
1.2
3.7
4.9
11.7
1.9
1.8
3.6
0.1
11.9
2012-13
BOS
38
37
48.4
24.0
64.5
1.1
4.5
5.6
11.1
2.5
1.8
3.9
0.2
13.7
2013-14
BOS
30
33
40.3
28.9
62.7
0.7
4.7
5.5
9.8
2.2
1.3
3.3
0.1
11.7
2014-15*
All Teams
68
30
42.6
31.4
39.7
1.1
4.4
5.5
7.9
2.3
1.3
3.1
0.1
8.9
2014-15*
DAL
46
29
43.6
35.2
45.2
1.0
3.5
4.5
6.5
2.4
1.2
2.9
0.1
9.3
2014-15*
BOS
22
32
40.5
25.0
33.3
1.1
6.4
7.5
10.8
1.9
1.7
3.4
0.1
8.3
2015-16
BAG
72
35
45.4
36.5
58.0
1.1
5.0
6.0
11.7
2.4
2.0
3.9
0.1
11.9
2016-17
CHI
69
27
40.8
37.6
60.0
1.1
4.1
5.1
6.7
2.1
1.4
2.5
0.2
7.8
2017-18
NOP
65
26
46.8
33.3
54.3
0.5
3.6
4.1
8.2
1.8
1.1
2.3
0.2
8.3
2018-19
ALL
46
30
40.5
35.9
63.9
0.7
4.5
5.3
8.0
2.2
1.2
2.8
0.2
9.2
2019-20
ALL
48
21
41.8
32.8
65.9
0.5
2.5
3.0
5.0
1.2
0.8
1.9
0.0
7.1
2020-21 *
All Teams
45
17
44.2
40.4
94.1
0.4
2.0
2.4
4.4
1.2
0.8
1.8
0.1
5.4
2020-21 *
ATL
27
15
40.0
37.8
50.0
0.2
1.9
2.0
3.5
0.9
0.7
1.4
0.1
3.9
2020-21 *
LAKE
18
20
48.6
43.2
100.0
0.8
2.3
3.1
5.8
1.6
1.0
2.2
0.1
7.6
2021-22 *
All Teams
29
18
34.3
31.3
82.4
0.5
2.5
2.9
4.1
1.5
0.8
1.9
0.2
4.5
2021-22 *
ALL
18
16
32.4
26.7
50.0
0.6
2.2
2.7
3.7
1.4
0.7
1.9
0.3
3.1
2021-22 *
KEY
11
21
36.2
35.1
86.7
0.3
2.9
3.2
4.7
1.7
0.9
1.8
0.0
6.9
Total
947
30
45.6
32.2
61.1
1.0
3.6
4.6
8.0
2.1
1.6
2.7
0.1
9.8