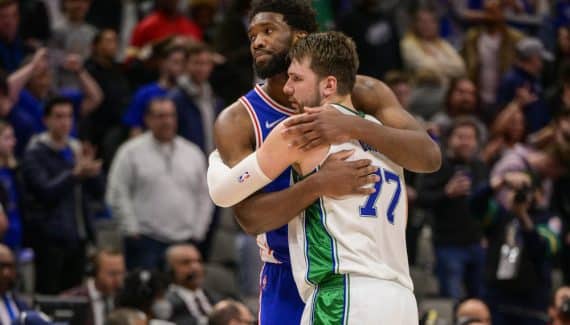 Twice crowned Player Of The Week, and author of several incredible performances, Luka Doncic is logically voted Player of the Month for December for the West Coast. The Mavericks leader ended 2022 on a sublime line of stats: 35.1 points, 9.3 assists and 8.5 rebounds on average. In its wake, Dallas has won 11 out of 17 games, and the team remains on seven straight wins.
In the East, no Jayson Tatum, Kevin Durant or Giannis Antetokounmpo, but Joel Embiid. Less publicized this season, the Cameroonian nevertheless aligns better stats than last season, whether in points, assists, counterattacks or even in shooting skills. This fine start to the season is rewarded with this Best Player of the Month trophy with 35.4 points, 9.9 rebounds and 4.2 assists per game!
Doncic and Embiid succeed Jayson Tatum (East) and Devin Booker (West).