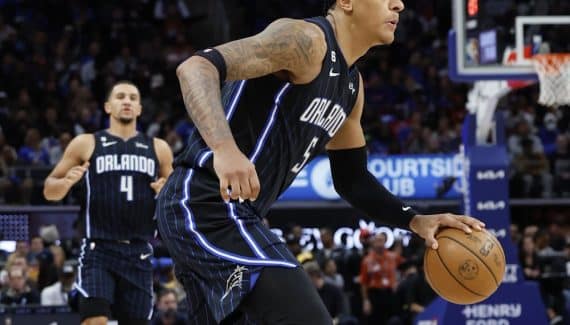 After having expressed several times his desire to wear the shirt of Italy, Paolo Banchero moved on to concrete things. According to Eurohoops, the Magic winger has met with the leaders of the Italian Federation and their explosive coach, Gianmarco Pozzecco.
"I am satisfied with the discussions we have had over the past few days to establish excellent relations" reacted the coach of the Squadra Azzurra about this contact.
In its press release, the Italian federation explains that the meeting took place after the meeting against the Bucks, and the GM of the selection Salvatore Trainotti, as well as Gianmarco Pozzecco also spoke with his agent, but also the leaders of the Magic to put set up a schedule that would allow him to play the next World Cup, which will take place from August 25 to September 10, 2023 in the Philippines, Japan and Indonesia.
At the start of the season, Paolo Banchero warned that playing this World Cup was his goal in 2023.
" I can't guarantee that I'll be there 100% since I have yet to start my first NBA season, but it's something I'm thinking about. When the time is right, I will make a decision.", he told La Gazzetta dello Sport."I have been in contact with coach Riccardo Fois (Italy team assistant since 2017) for some time now. He was in Gonzaga and Arizona, and he worked for the Suns in the NBA. I know him and I respect him. At player level, I have a good connection with Nico Mannion. He's a West Coast kid like me, and he's played in the same tournaments as me. »
Paolo Banchero
Percentage
Bounces
Season
Crew
GM
Minimum
Shots
3 points
LF
Off
Def
Early
pd
party
Int
bp
CT
Points
2022-23
ENT
18
34
44.9
24.6
73.0
1.3
5.5
6.8
3.8
2.2
0.8
2.9
0.6
21.7
Total
18
34
44.9
24.6
73.0
1.3
5.5
6.8
3.8
2.2
0.8
2.9
0.6
21.7