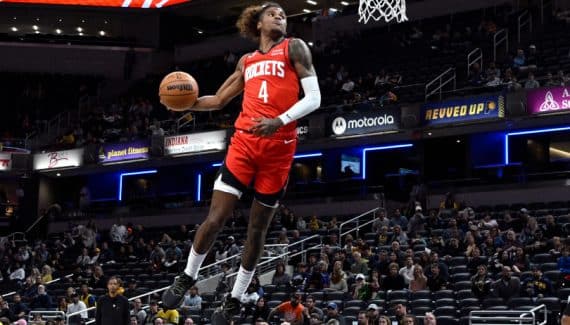 The Rockets finally ended their preseason campaign with a third win in four games. Winners in Indiana last night, the Texans showed seriousness and collective strength (8 players with 8 points and more) in order to facilitate the task, and with Jalen Green as master to play (33 points, 3 assists).
Backcourt Lae Green-Porter Jr started by setting fire to the Pacers' racket in an opening act that quickly swung in Houston's favor. Jalen Green and Kevin Porter Jr were then joined by the Gordon-Martin-Sengun trio who swelled the gap. Upon arrival, Indiana conceded 39 then 42 points in the first two quarters and found themselves relegated to 21 lengths at the break (60-81).
The reaction instigated by Buddy Hield and Jalen Smith was not enough to overthrow the Rockets who managed to maintain a sufficient advantage until the end to win 122-114. Dominated in the rebound (52 to 38), the Pacers also watered from afar with a small 12/41 behind the arc (29.3% address).
Indiana

/

114
Shots
Bounces
Players
Minimum
Shots
3 points
LF
O
D
T
pd
party
Int
bp
CT
+/-
Points
Rating
J.Smith
19
3/10
2/6
2/2
2
3
5
2
1
1
+1
10
11
Mr. Turner
21
5/7
1/2
4/4
2
2
3
2
1
3
-16
15
20
TJ McConnell
20
3/8
1/1
0/0
2
2
4
3
2
1
-13
7
10
B.Hield
20
6/9
4/6
3/3
1
3
4
1
1
1
-14
19
20
C.Duarte
21
4/10
2/7
0/0
1
1
3
2
1
-15
10
7
D.Sirvydis
5
1/4
1/4
0/0
1
+4
3
I.Jackson
12
2/4
0/0
1/2
2
2
1
2
2
3
+2
5
10
O. Brissett
8
0/2
0/1
2/4
1
2
3
1
1
1
1
+3
2
2
G. Bitadze
15
4/6
1/2
0/1
1
2
3
3
1
+6
9
12
L. Galloway
12
1/3
0/2
0/0
1
1
2
-1
2
1
T.Taylor
17
2/2
0/0
0/0
2
2
4
1
+3
4
9
A.Nembhard
25
1/8
0/5
0/0
4
4
7
4
3
+6
2
3
K.Brown
18
3/4
0/1
2/2
2
1
1
2
+7
8
12
B. Mathurin
27
7/18
0/4
4/6
3
2
5
3
2
-13
18
11
42/95
12/41
18/24
15
23
38
29
20
7
9
8
114
128
Houston

/

122
Shots
Bounces
Players
Minimum
Shots
3 points
LF
O
D
T
pd
party
Int
bp
CT
+/-
Points
Rating
K. Martin Jr.
34
4/9
2/5
0/0
3
5
8
3
1
2
1
+9
10
15
A.Sengun
25
4/9
2/2
2/2
2
2
4
5
3
1
2
2
+11
12
17
E.Gordon
17
4/8
2/5
4/4
1
1
+3
14
11
K. Porter Jr.
27
8/14
5/6
1/2
2
5
7
3
1
2
+16
22
23
J. Green
29
10/15
4/7
9/9
1
1
3
3
1
1
+15
33
32
U. Garuba
16
0/2
0/1
0/0
2
7
9
2
3
1
-13
5
B.Fernando
15
0/2
0/0
1/2
2
4
6
3
+6
1
4
T. Eason
22
3/5
1/2
2/2
2
4
6
2
2
1
+11
9
14
B.Marjanovic
5
1/1
0/0
0/0
2
2
1
-2
2
5
J. Christopher
23
5/14
1/6
0/0
7
7
1
1
2
3
-7
11
9
T.Washington Jr.
21
3/8
1/4
1/1
1
1
3
2
-6
8
2
T.Hudgins
8
0/1
0/1
0/0
1
1
2
1
1
-3
1
42/88
18/39
20/22
13
39
52
20
21
4
17
5
122
138