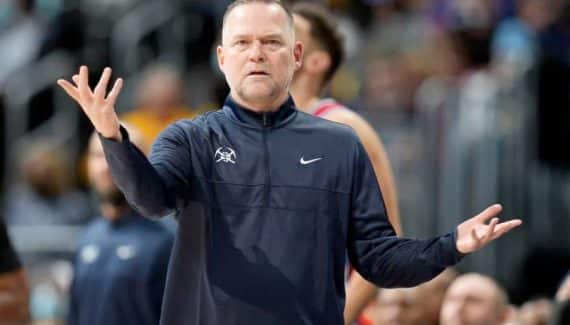 Tied with the Pelicans (22 wins – 12 losses) for first place in the Western Conference, the Nuggets can be generally satisfied with their first part of the season.
The returns of Jamal Murray and Michael Porter Jr. allow the team to rely on the second most effective offense in the league (116.4 points scored on 100 possessions), but the defense is still under construction since the troop of Mike Malone only points to 24th place (114.1 points conceded on 100 possessions).
The other problem is the bench since Denver has the second best nucleus of starters (+5.4) but the worst group of substitutes (-3.4), which Jeff Green's injury does not help…
According to The AthleticGM Calvin Booth is therefore always looking for ways to improve the defense, although the successive arrivals of Aaron Gordon, Kentavious Caldwell-Pope and Bruce Brown have helped. The leader would thus like to get his hands on another winger with a defensive profile, to relieve the incumbents off the bench.
The problem is that Denver does not have many aces up its sleeve to mount an interesting transfer. The club's future first-round Drafts will likely transfer to Charlotte, Oklahoma City and Orlando, and the Nuggets have few transferable players who can serve as bargaining chips for a trade.
Shots
Bounces
Players
GM
Minimum
Shots
3 points
LF
Off
Def
Early
pd
bp
Int
CT
party
Points
Nikola Jokic
31
33.6
61.9
32.4
80.6
2.2
8.7
10.8
9.4
3.5
1.5
0.6
2.8
25.7
Jamal Murray
28
31.8
43.8
35.9
78.6
0.5
3.4
3.9
5.7
2.1
1.0
0.2
1.3
18.3
Aaron Gordon
29
30.0
61.1
39.0
64.4
2.4
4.3
6.7
2.1
1.6
0.9
0.8
1.8
17.5
Michael Porter, Jr.
20
29.6
47.3
42.0
77.5
1.1
5.0
6.1
1.3
1.3
0.7
0.5
2.7
16.9
Bones Hyland
26
20.9
38.9
38.6
84.2
0.3
1.8
2.2
3.4
1.7
0.6
0.3
1.8
13.0
Kentavious Caldwell-Pope
33
31.6
46.5
45.6
80.9
0.5
2.6
3.1
2.2
1.2
1.2
0.4
2.1
11.3
Bruce Brown, Jr.
33
29.5
49.0
39.8
79.5
0.9
3.2
4.1
4.1
1.6
0.9
0.6
2.5
10.8
Jeff Green
24
19.3
52.7
26.7
68.6
0.9
1.9
2.8
1.1
1.0
0.4
0.3
1.8
7.5
Deandre Jordan
26
14.4
75.4
100.0
47.2
1.3
4.0
5.3
0.8
1.1
0.2
0.7
1.6
4.7
Vlatko Cancar
23
12.0
50.0
48.8
85.7
0.3
1.4
1.7
1.0
0.7
0.3
0.2
1.3
4.5
Zeke Nnaji
25
10.5
58.6
18.8
77.8
1.0
0.6
1.6
0.2
0.5
0.2
0.2
1.6
4.0
Christian Brown
31
14.9
46.0
34.3
52.4
0.6
1.5
2.1
0.6
0.4
0.3
0.2
1.2
3.7
Ish Smith
15
9.6
40.0
33.3
50.0
0.1
0.9
1.0
2.0
1.0
0.3
0.4
0.7
2.9
davon reed
23
10.3
31.0
35.3
68.8
0.3
1.2
1.5
0.6
0.6
0.3
0.1
1.2
2.6
peyton watson
6
2.5
33.3
0.0
0.0
0.3
0.2
0.5
0.0
0.0
0.0
0.0
0.2
1.0
Jack White
8
3.2
16.7
0.0
0.0
0.3
0.4
0.6
0.0
0.0
0.1
0.3
0.5
0.3